Written by Camilla Ruth
Beaches, brainstorming and business inspiration. What's not to love about co-living in Spain? Here are 5 ways the experience made me a better copywriter.
Upon first hearing of co-living, it sounded a lot like a glorified hostel with laptops. But I was very, very wrong.
Luckily for me and the sake of my productivity, spending a month co-living in Spain turned out to be one of the best things for my copywriting business and personal growth.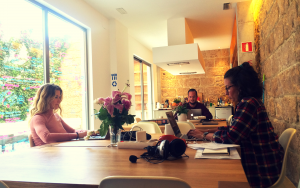 Here are just a few of the reasons why I'll be returning to Sun and Co next year. 
I can shoot my to-do list with laser beams of productivity
Sun and Co is nestled within Xabia's old town, a quiet residential area with little winding alleyways and a hop, skip and a jump from some mighty fine Patatas Bravas (La Cajita FTW!). Mount Montgo looms above reminding you of all of your metaphorical mountains, which is a nice prompt in the morning to get up and get shit done. Which is, surprisingly enough, easy to do. Xabia is not a party town, so if you're looking to get your freak on and lose a week lost in a pit of booze, Xabia is not your jam. But if you're looking to rejuvenate your day with a dip in the ocean and step away from the busier main cities, just hop on a bus from Valencia. You'll find a nice co-living place to zone in on your to-do list.
I learned to keep it simple
Us writers are a smarmy, show-offy bunch. Sometimes I like to use big words to prove how intelligent I am because I have blonde hair and people assume all I do is shop. Living in a co-living space full of people who learned English as a second language taught me to get off my high horse and write with comprehension and clarity in mind. If there's a shorter, simpler word to use, use it!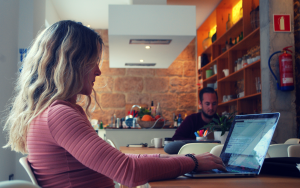 I'm more motivated than ever
Come 5pm on Friday in Melbourne, you can find me with a glass of wine in hand. That's a lie – I'm probably a few glasses deep by then. But with people around me keen to enter the weekend early, it can be hard to motivate yourself to spend that extra hour at your desk. At Sun and Co, you enter a room and most people are tapping away enthusiastically at their laptops. Who wants to watch Netflix when you're in a room full of people kicking goals? Not me!
I learned to manage my time better
If you know me well, you'll know that I am the most impatient person ever. Because I only had 3 months overseas to explore, I originally booked just 2 weeks at Sun and Co. Eventually I learned that this wasn't enough time to get in the flow, which is a lesson I'm now applying to all of my copywriting work. And now I've been here a month.
Just like getting to know a new place takes time and patience, so too does creating quality content. There's much to be said for having a process and giving yourself the space to explore new ideas and try different approaches. Of course, we all have deadlines. But if you're reading this, I'm willing to wager you're your own boss and have a say in how you manage your work load and your day. Give a slower pace a try – if I can do it, so can you. In fact, I dragged out writing this blog post for an entire week. Thanks for not killing me, Anita.
I learned that no writer is an island
Us copywriters have a tendency to hide behind our computers and our extensive vocabularies to avoid dealing with difficult moments and difficult people. But you can't actually expand as a person or a business if you keep yourself hunched over a screen, drowning out the sound of the world with your noise-proof headphones. Connecting with lots of different people from a variety of industries, countries and walks of life brings a fresh perspective to your business. When you visit Sun and Co, impromptu masterminds are a great way to bounce ideas off people. It's like an episode of Shark Tank, but with emotional investment instead of financial investment.
There are many pros to spending a month co-living in Spain, and these are just a few of them. Set your sights on the south of Spain and head to Xabia – you won't regret it.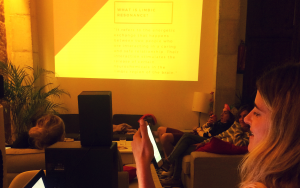 About the author: Camilla is a Melbourne copywriter who creates content for fashion and lifestyle brands all over the world.. You can conect with her on Instagram, Facebook. More info here: http://camillapeffer.com.au/ http://allwecannotsay.com/