Written by Alex Barron
I arrived at Sun and Co with a burning desire to come away at the end of my stay with a greater feeling of confidence in the direction in which I was going to take my online teaching business. I had spent the past 5 months trying out new things: creating daily social media content, weekly YouTube videos on topics about the English language and British culture, and my website. And of course doing a lot of reading and learning from others in my domain. Introducing Masterminds…
…What is a Mastermind session? My experience.
Well, a Mastermind session is where the community comes together for an hour, listens to the nature of the personal or profession challenge of someone – or a group (one specific problem works better than many), and then spends the rest of the time offering ideas for solutions. It's basically a big discussion, but structured around one principal issue.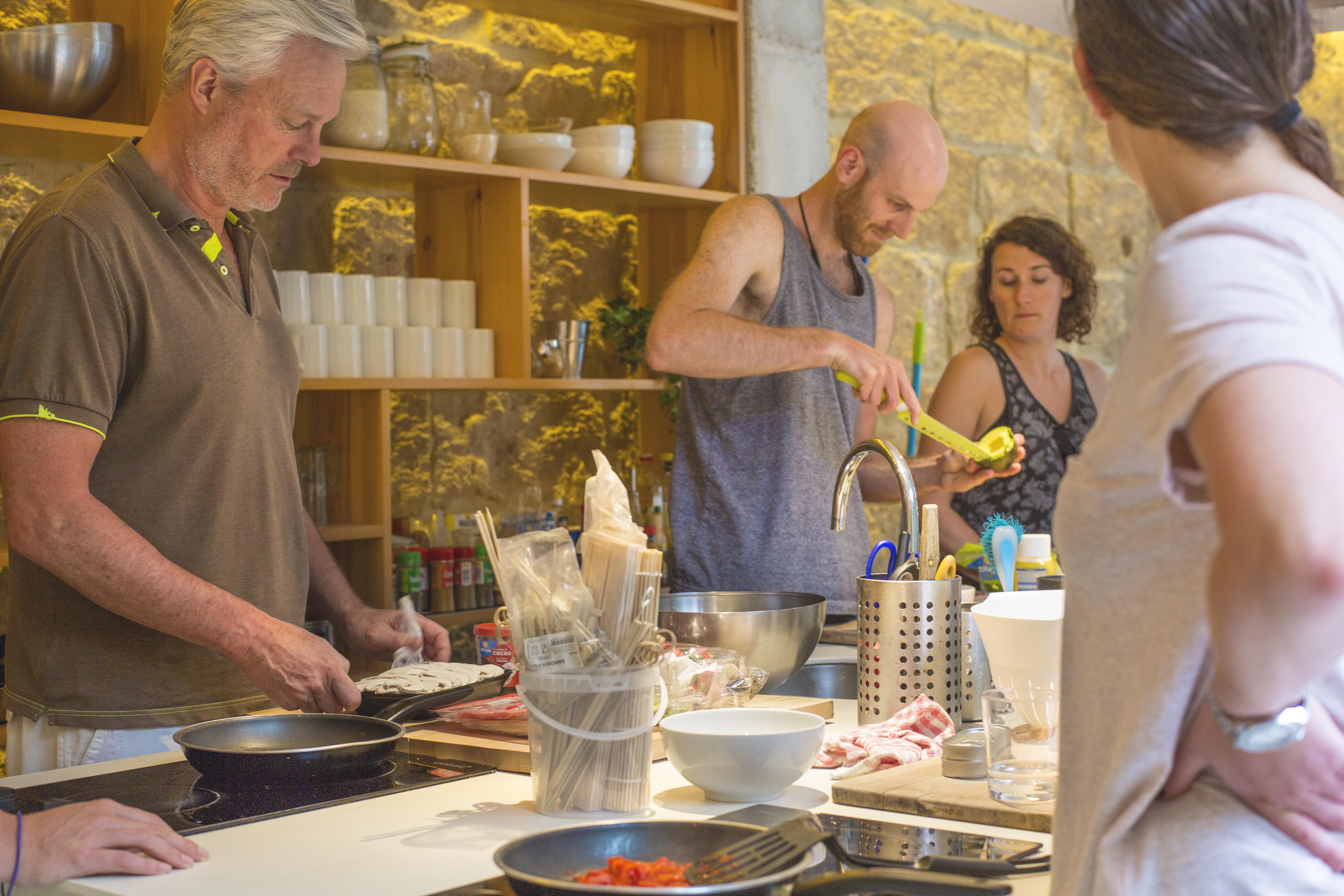 I'm usually nervous about showing off my work and having it critiqued, but I knew that having fellow co-livers' opinions could prove very valuable. One benefit of co-living is that the people are quite independent, often experienced in a variety of different fields, and eager to help others. Fresh ideas often come when you don't expect them.
By the time the second of my near 3-week stay at Sun and Co came around and we were having our weekly family meeting I decided to bite the bullet and commit to holding a Mastermind. I had many different queries and uncertainties in my mind about my project, and hadn't decided the exact topic of the session until that moment sat in front of the window we use at Sun and Co to write down the weekly schedule. However, pressure can be an effective tool in decision-making, can't it? I settled on: "Alex's English Teaching Niche". This was the main uncertainty I had and if I could get some clarity on this, many of the others would seem less imposing. BOOM! It was written down. I had to do it.
It's fantastic having access to so many experienced minds in one room; it provides the possibility of having such valuable feedback. On the other hand I think I benefitted as much as I did because I tried to narrow down my question to one that was very specific. In the end it was more like two or three questions around the topic of choosing French speakers as a niche. I would say that the fact that arranging a Mastermind forces you to organise your own thoughts on the matter at hand is a great plus in itself. So I felt that I had gained clarity before the session had even begun!
Masterminds take place at the house at Sun and Co. Mine was held inside so I could make use of the projector. The breakdown of time goes as follows:
• 10–15 minutes presenting the current situation/state of the idea/business/product.
• 45 minutes discussion with the other attendees which takes the form of direct feedback and Q&A's to help them give better feedback by asking questions.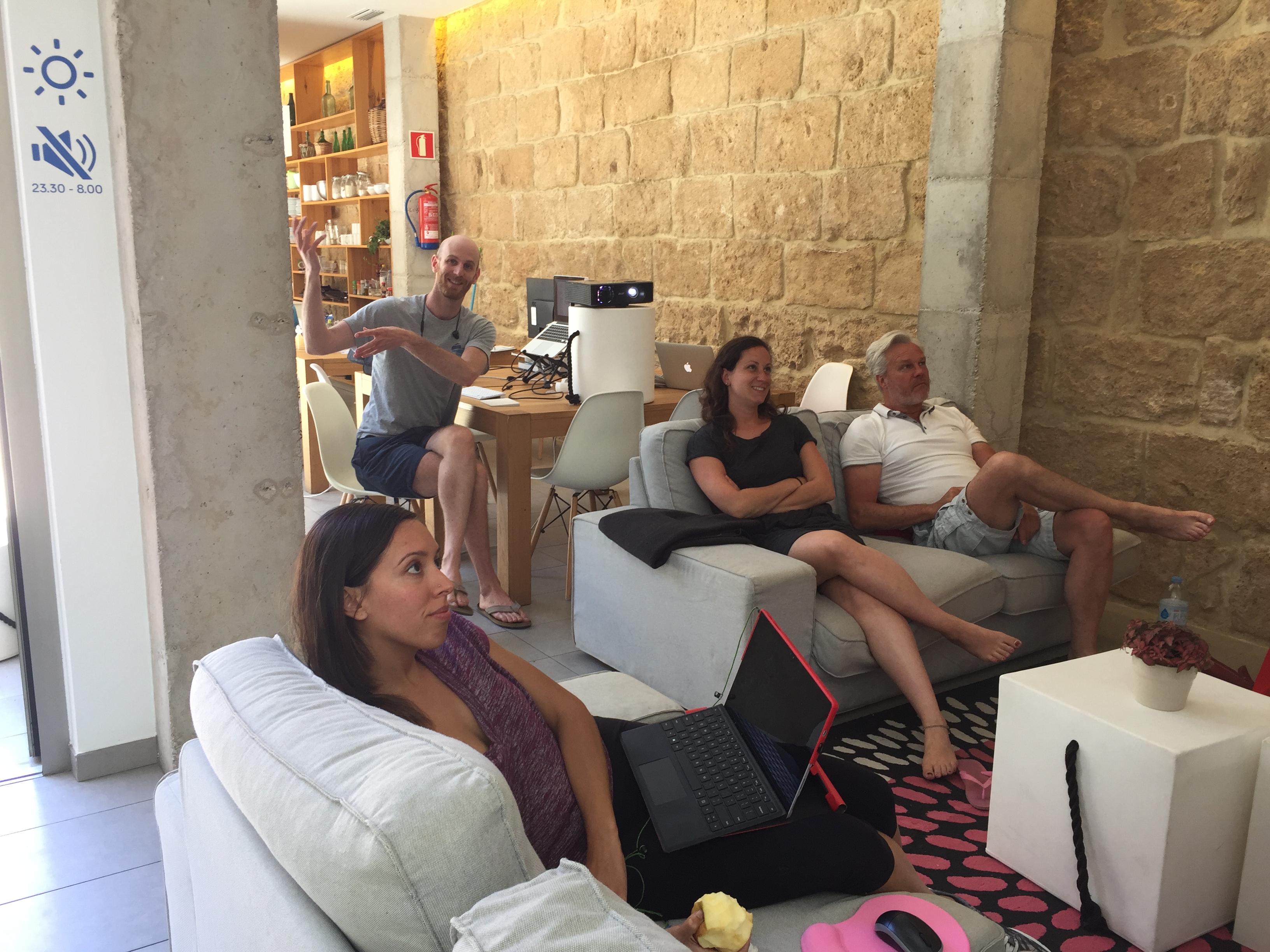 The Mastermind gave me not only new ideas for business models, how to choose my audience, and how to reach customers, but also confirmed my own ideas. I think the latter was more what I was looking for. Of course the former are going to help me a lot, but what I wanted to have when the hour was over was more confidence in the immediate direction of my business, and I got that. Working solo you often rely on yourself for moral-support, but outside voices that you respect have a huge impact! I would say that a Mastermind is the ultimate representation of co-working.
In conclusion I would say Masterminds have so much value. If you have anything you need input on, be it professional or personal, they can offer a great deal. To get the most out of them, really take the time to think about what you WANT at the end. This will ensure that you come away feeling satisfied. I know I was smiling at the end of mine :).
…. Alex is British and has lived in France for 2 years, has been a freelance web developer for 3 years and an online English teacher for one. He came to Sun and Co to see what the co-living experience was all about, and to have a change of scenery that would allow him to mix with like-minded people and generate ideas of how to progress with his teaching business http://britnchipsenglish.com, which he wants to develop into a one-stop-shop for English learners whose native language is French. When not working Alex is often enjoying the sunshine wherever he may be, and practising a new language.
Suscribe to our amazing Newsletter right at the end of this page