Did you know that the Costa Blanca, on the southeastern coast of Spain, is one of the warmest places in Europe during winter? And yet it remains one of the best kept secrets when it comes to travel destinations in Spain.
If you are thinking of your next place to visit during winter in Europe, but you are not so keen on spending too much time in big cities such as Barcelona or Madrid (which can get really cold during the winter!), take a look at the best things to do around Javea. It might surprise you how easy it is to reach so many places, while being based at Sun and Co.!
Valencia
A charming old city originally founded as a Roman colony, Valencia is Spain's third-largest urban centre and less than 2 hours drive from Javea (or you can catch a bus from the main bus station in Javea). The port city of Valencia lies on Spain's southeastern coast, where the Turia River meets the Mediterranean Sea. It's known for its City of Arts and Sciences, with futuristic structures including a planetarium, an oceanarium and an interactive museum. Valencia also has several beaches, including some within nearby Albufera Park, a wetlands reserve with a lake and walking trails.

Alicante
Capital of the Alicante province, the city has an enchanting atmosphere that blends rich history with animated beach life. Inhabited for over 7,000 years, the city draws visitors year-round to see its many historical structures, which represent the influences of several different cultures. Renowned for its warm Mediterranean weather and golden shores, Alicante is a popular vacation destination for sun-seekers, golfers, and yacht enthusiasts, as well as travelers who simply enjoy the dramatic coastline and beautiful countryside.

Denia
Just a 20 minutes drive from Javea, Denia is a gorgeous little town of around 30,000 inhabitants, with a bustling port and nightlife. Here's what a half day in Denia might look like: take a boat tour from Javea to Denia to experience the sunset, then wonder around the city, stop for an aperitiv at Els Magazinos, and dinner by one of the many restaurants by the port. If you're more into tapas and drinks, head to Calle de la Mar and try all the little bars and clubs, with music until late.
Pro-tip: from Denia you can easily catch a ferry to the Balearic islands, and be in Ibiza and/or Formentera in just a couple of hours. Highly recommended!

Javea
Known for its coastal blue waters, since it is a town by the shore, Javea is of course our favourite place. It's where our home is! It is said to be a perfect example of a Mediterranean destination, as it has a wide array of beaches and numerous adventures to choose from. But it's also a great place to use as a base to go and explore the surroundings. All you need is a mode of transportation to get around (lots of rental car places we can recommend!) – and a room at Sun and Co.!
Javea is conveniently located between Valencia and Alicante airports, from where you can take a bus, a shuttle or a BlaBla Car and be at Sun and Co. in a couple of hours.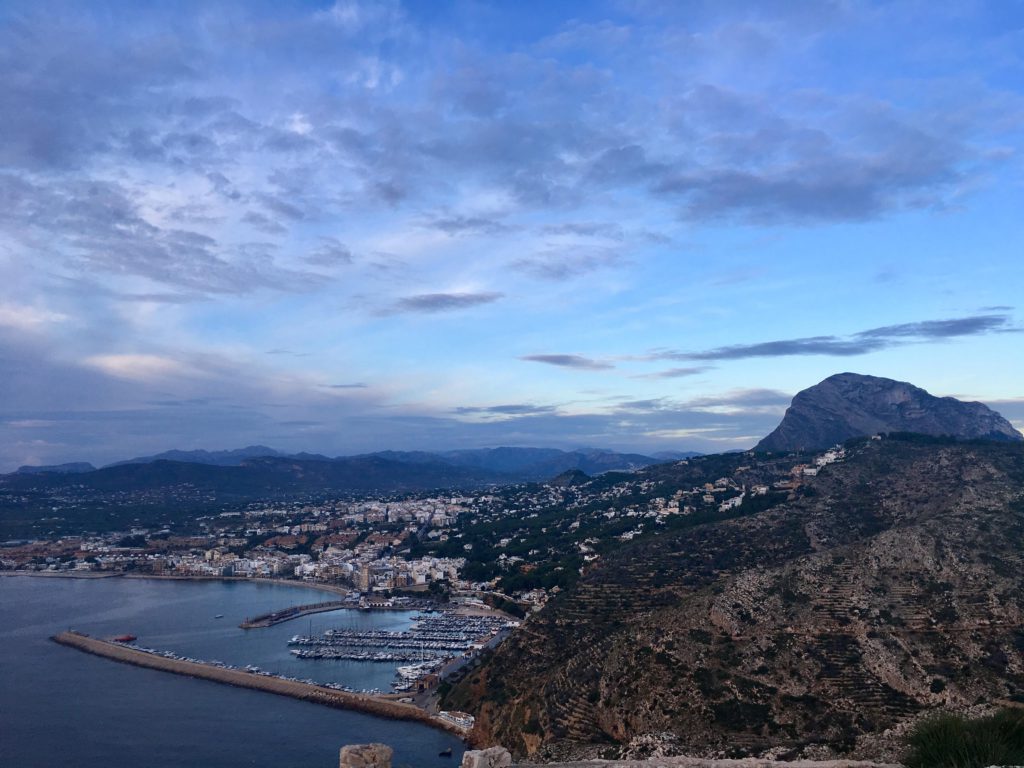 Ready to escape the European winter? Flights to either Valencia or Alicante are really cheap in the low season too! Come and discover the beauty of Costa Blanca, one of the most beautiful and (warmest) places in Europe!