One thing is certain – we can never get enough of the inspiring stories of our colivers. Meet Herbie, a software engineer and nature lover. Herbie works remotely for a startup in the process automation space called Process Street.  They're 100% remote and his time is pretty flexible which means Herbie can balance his time in front of the computer with getting outside as much as possible.  His current favourite weekend activity is having a fire on the beach with friends.
How did you become/are you becoming a digital nomad/location independent?
Maria and I love to travel but as we've grown up we've felt a bit disconnected with conventional backpacking.  A lot of the people you meet are a lot younger and it's harder to put down roots and build meaningful relationships as you are always moving.  Co-living sounded like a great way to see the world and meet like minded people whilst still being able to work.  We still have a flat in Brighton which we love so we're not full time digital nomads but we plan to spend 1-2 months every year co-loving around the world.  Sun & Co was actually our test run to see if we liked it…. and it's safe to say we're hooked!
What are the challenges in this process and how do you handle them?
I think one of the biggest challenges for me was setting my work/fun boundaries.  There's always someone doing something interesting or exciting at Sun & Co.  I had to come to terms with the fact that I couldn't do everything but I'd be there 100% for the things I did do.
What's been your favourite part about Coliving / Javea / Sun and Co.?
Honestly, the whole experience surpassed my already high expectations so it's hard to pick favourites…. but I think for me the two which really stand out were the sunrise swims at the beach and the family meals.  I love nature and I love cooking/eating/drinking so those two really ticket all my boxes.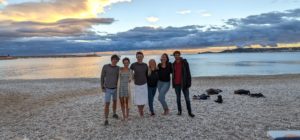 If you had one piece of advice to give to someone who is thinking about quitting their job to be location independent, what would it be?
Life's too short to live with "maybes", just do it!  Worse case scenario you can always move back home right?  You've got very little to loose and everything to gain.
---
Join the Sun and Co. Community to hear more about our colivers and life at Sun and Co.!