While community housing and communal living have been around for a while, coliving is still regarded as a fairly new concept. Even as a remote worker, it can be hard to understand what we mean by coliving at Sun and Co. if you've never experienced it. 
Technically speaking, coliving can be described as a shared housing model. Tenants (aka 'colivers') live in a home where common areas like kitchens, living rooms, office spaces, laundry facilities, and sometimes bathrooms are shared. The fee you pay includes all your utilities, high-speed internet, weekly cleanings, fully equipped kitchens, furnished common and living spaces, constant restocking of your kitchen and essentials including coffee, tea, seasonings etc. And if you are at Sun and Co., a coworking space accessible 24/7.
But this is only the technical definition. There's an entirely different aspect of coliving, which we will attempt to describe in the next few paragraphs, that can't be priced.
So let's start from the basics!
What Coliving is NOT
Coliving is NOT a hotel.
When you book a hotel, you generally know what to expect: a room for yourself and pretty much no interaction with other guests. Good if you're a tourist or just traveling through a place.
Coliving is NOT a hostel.
If you are traveling solo and/or are looking for some more human interactions, hostels are certainly a better option than hotels. However, hostels attract all sorts of people. This means while you are looking for a work-life balance while on the road, your hostel buddies might just be looking for the happy hour!
Coliving is NOT an AirBnB.
As a remote worker, AirBnB can look like a good compromise for your work-and-travel lifestyle. However, there's no guarantee that your host will be sociable and willing to connect you with the locals. And if you're looking for a place to work from, it is rare (and time-consuming) to find a fully-equipped workspace with solid wifi.
What IS Coliving then?
A coliving space like Sun and Co. can be defined as a modern form of housing designed to support a purpose-driven life, where residents share living space and a set of interests, values, and/or intentions. People choose to stay in coliving spaces as they're visiting the location to keep a healthy work-life balance, meet like-minded people, and discover a new place too. 
So who are these people, you ask? There are mainly three types of guests at Sun and Co.:
Digital nomads
Like our friend JP, aka location-independent workers traveling full-time.
Remote workers
Like Hannah, who might have a base somewhere in the world, but due to the nature of their jobs can work remotely for some time.
Professionals
People who have a full-time job in their countries, but want to get away and/or aspire to become location independent and are looking for inspiration.
The average stay is between one week and two months. The minimum stay we recommend in order to get the most out of the coliving experience is two weeks.
Javea + COliving COworking COmmunity = Sun and Co.
Javea – the charming little town we call home on the east coast of Spain – provides the 'Sun' all year round. We just had to add the 'Co.'s to create the perfect home for location independent workers!
We covered COliving, let's have a look at what COworking and COmmunity mean.
Both the coliving and the coworking spaces are under the roof of a renovated 19th-century house, with three floors and over 200 sq meters of common areas, including a huge kitchen and a patio. We offer up to 20 workspaces, 3 working areas, a conference room and 24/7 access (plus free coffee and tea!). We also have a printer, a projector, LCD screens and oh yes, 300 mbps/300 mbps internet fiber connection!
But what makes Sun and Co. really famous around the world is its community. It is true that spaces like ours attract a certain type of like-minded people. However, behind every great coliving community, there is always a great host that works hard to build it and promote strong shared values. We are a team of three hosts here at Sun and Co. – Jon, Silvia and Edu – and every day we work hard to make sure our guests have an amazing experience. Judging by our Facebook Reviews and Google Reviews, we ain't doing a bad job!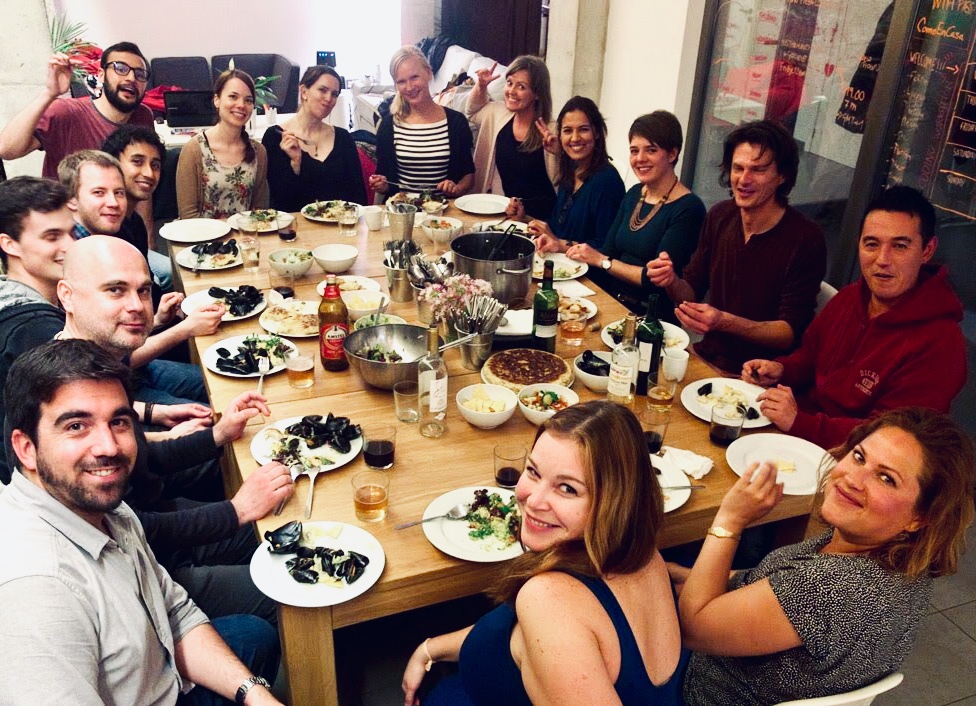 Why We Love Mondays
Part of our job is to make sure that everyone feels welcomed and included in the community. This is why every Monday at 7 pm we run a 'Family Meeting', when we all get together to introduce one another and talk about who we are, what we do, what we value in life and a few fun questions. We also ask everyone to come up with a skill that they'd be willing to teach to the community, and a skill that they would like to learn. And if anyone has a particular life or work-related challenge they're currently facing, we encourage them to organize a mastermind to find a collaborative solution.  
During the meeting, we also come up with a calendar of events for the week ahead. Expect a lot of learning with professional events like skillshares led by colivers on any kind of different topics, from online advertising, to cyber-security, coding, storytelling, real estate investing, and much more. The goal is to mix professional and social events and to balance the time so that we can still get work done while making the most of our time with the community and in Javea. Work smarter, live better is our motto, after all!
A Day In The Life At Sun and Co.
Living with another 15-20 people all under one roof doesn't mean you need to do things together all the time. At Sun and Co., nothing is mandatory and everyone works and lives at their own pace. Having clarified this, here's a sneak peek into a typical day at our home!
7.00am – 10.00am 
Wake up at your leisure, then go for a morning hike, a walk/run on the beach, or a morning surfing session. Or just cook breakfast with the other colivers and kickstart your day with some interesting conversations (and coffee!). Perhaps you feel like doing yoga on the patio, or read? Hitting the snooze button over and over is ok too! 
10.00am – 1.00pm 
Grab coffee or tea, settle into any of our inspiring workspaces and get to work to own the day. 
1.00pm – 2.30pm 
In typical Spanish fashion, there's always time for lunch! So take a break, cook something yummy with the other colivers, bond over lunch conversations on the patio or attend a lunchtime skillshare session!
2.30pm – 6.00pm 
You choose. Continue working to hit those deadlines? Hold your afternoon calls in the Skype room? Take a break and explore Javea? Go to the beach? If too many options are making you tired, remember when in Spain… Siesta is always a good idea!
6.00pm – 8.00pm 
How about learning a new skill before dinner? Skillshares and masterminds are a great way to harness the power of our diverse community and take your personal and professional growth to the next level.
8.00pm – 11.00pm 
Time to unwind. Go out for tapas, or stay in to cook dinner and chat with your housemates over a glass of wine. Then why not watch a movie or play games? Or just head to your room for some quiet you-time, and get ready for another full day tomorrow!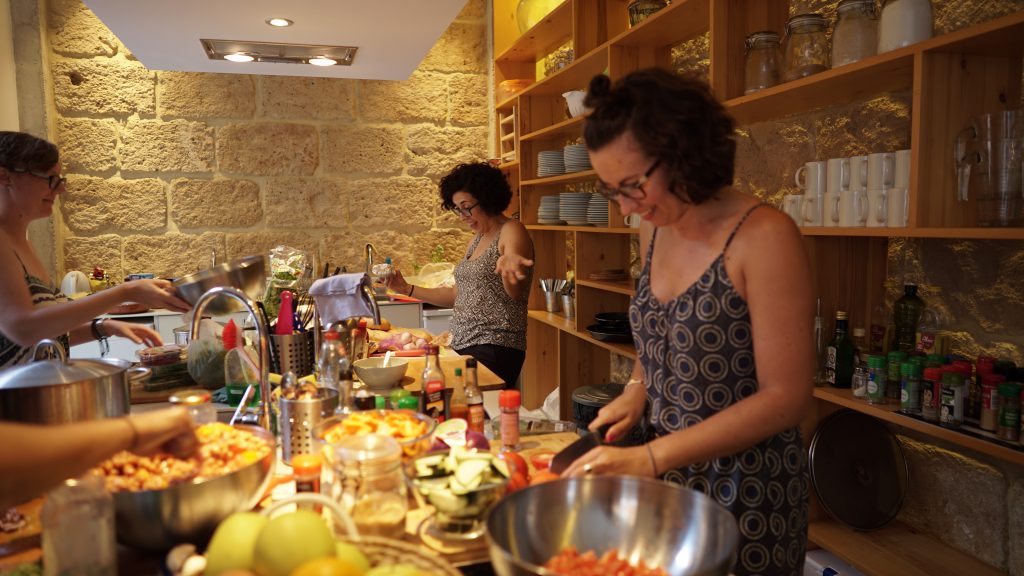 Coliving is something that is on the rise and we believe is the future of remote working. In fact, we have recently celebrated our 4th year Anniversary and we couldn't be more proud!
Sun and Co. Anniversary Event
Every year for the last 4 years, the last couple of weeks of October Sun and Co. is in 'anniversary mode'. Meaning that while you'll get to enjoy the usual 'work smarter live better' lifestyle, getting work done while socializing with our community, our wonderful hosts take care of the entertainment.
Private wine tasting & tapas night, boat ride at sunset, paella party at a local fisherman's house… this is the only time of the year where you'll be able to have a different kind of experience with us in Javea, while still checking off your work to-do list.
Here's a recap in pictures of what we did in 2019. Spoiler: it was fun. And yet, we still had time for being productive and building meaningful connections with each other. Thank you for celebrating our 4th anniversary and being part of this amazing family, with 400+ members from over 40 countries!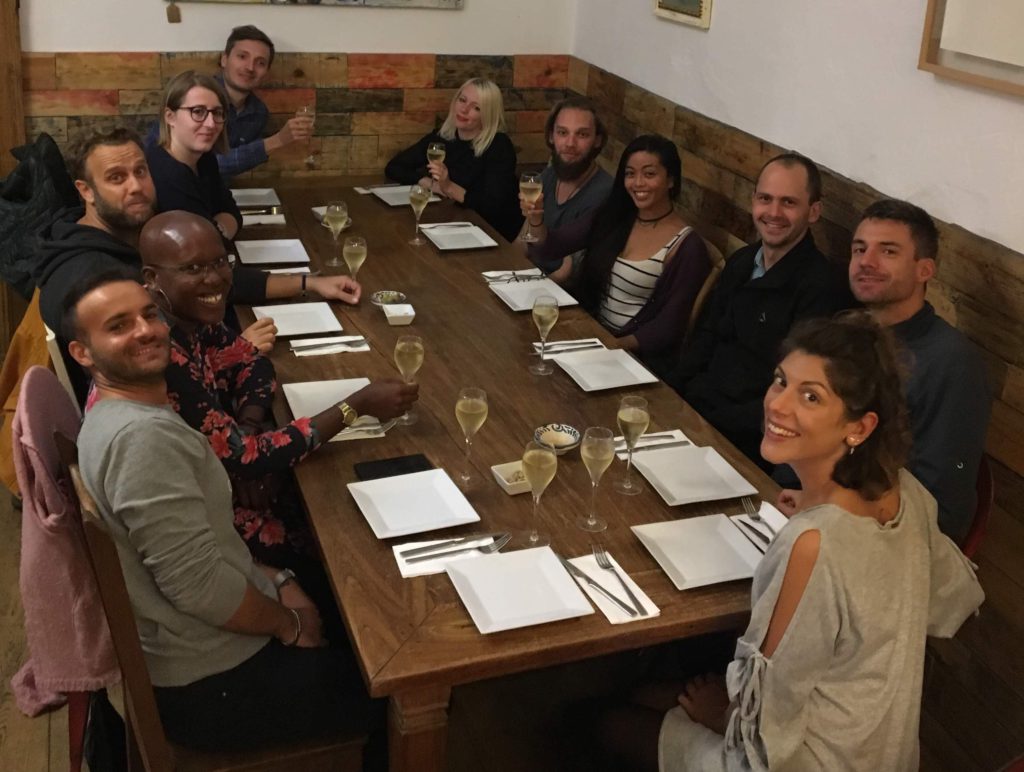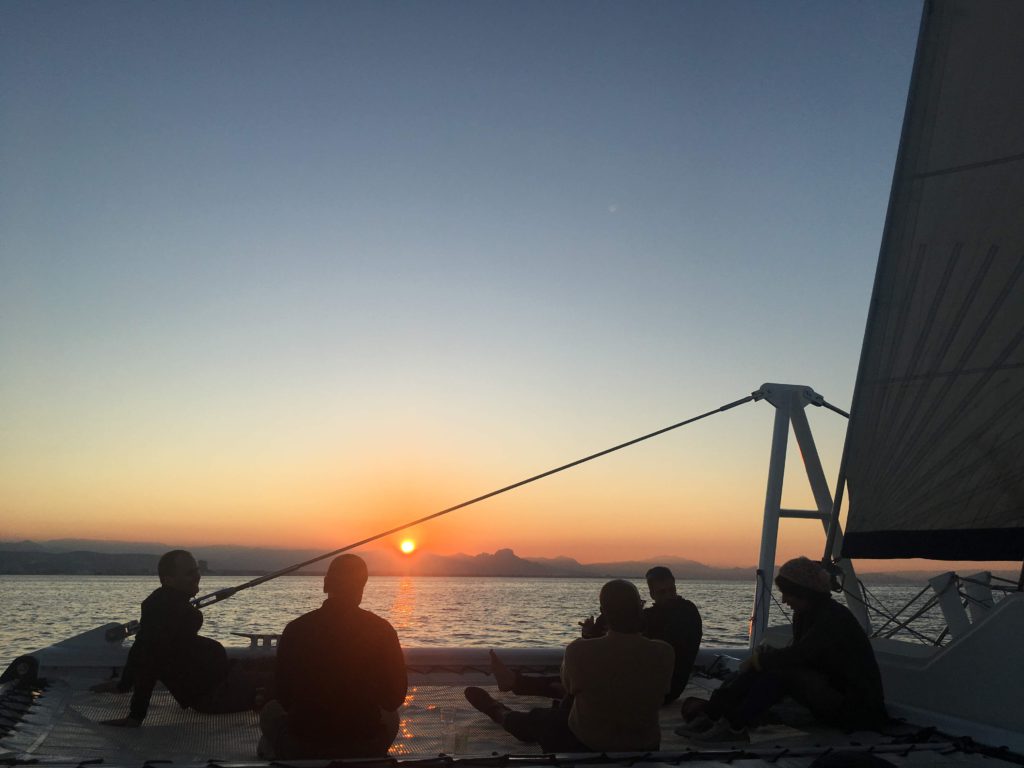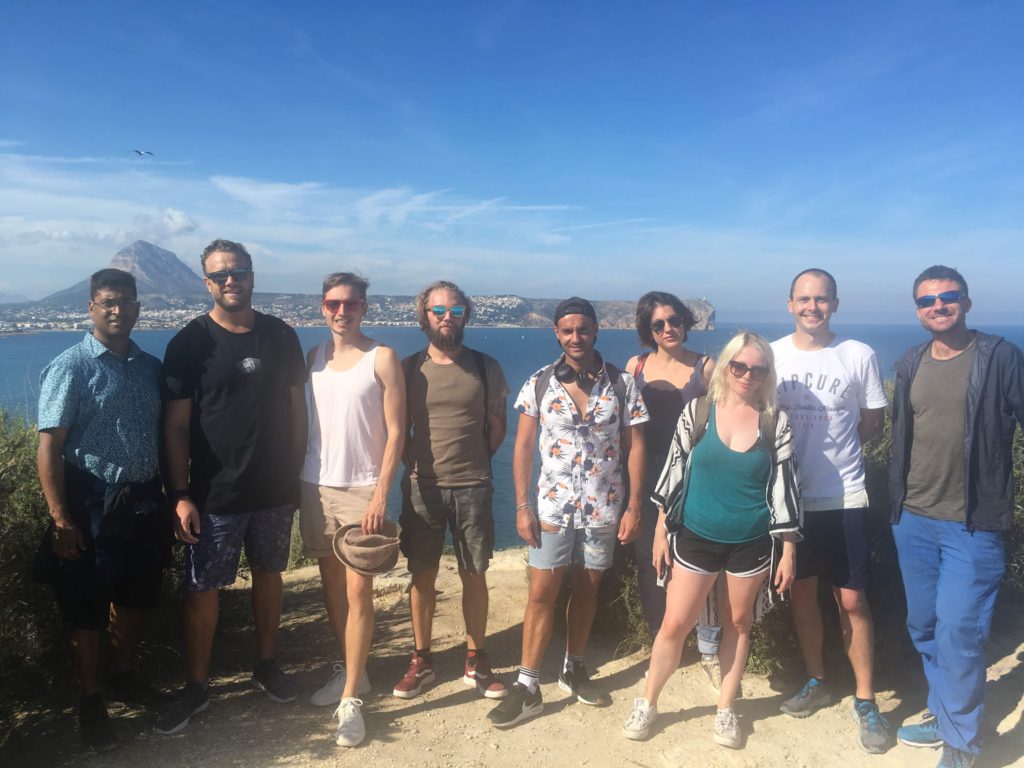 Now that you know more about coliving at Sun and Co., will you be willing to try for yourself? 

If you're ready to take the next step in your life and career, be in a new environment, connect with other like-minded people and spend your days inspired by where you are and what you're doing, head to our

booking page

and book your stay with us!