Let's talk about a new trend that we think is here to stay: slow travel!
Can you remember the last time you've just come home from traveling and immediately felt you needed a vacation? Do you regularly find yourself making extensive lists of all the places around the world that you want to check off of your bucket list?
Then it may be time to slow down, take a step back, and think about the reasons behind your desire to travel.
The Rise Of Slow Travel
We're living in a time where traveling has become widely accessible and affordable. However, if being able to move from place to place is relatively easy for those of us that own a passport, immersing ourselves in the different cultures and communities we visit still requires a certain amount of effort and time. 
Being a traveler today is very different from just being a tourist.
Of course, sometimes some of us are just looking for a quick getaway, where we get to see all that there is to see in a country, rushing around taking pictures to refresh our Instagram accounts before flying back home – or somewhere else.
But there's an increasing number of 'slow travellers' looking to experience a more sustainable, responsible way of travelling, while still having impactful, life-changing experiences.
For these people, traveling has become a way of living their lives. Hence, diving deeper into each culture that they experience and finding communities around the world has become an essential part of their traveling experience. If not their ultimate goal.

What is Slow Travel?
The concept of slow travel originally developed from the slow food movement, which began in Italy in the 1980s as a protest against the opening of a McDonald's in Rome. The slow food movement aims to preserve regional cuisine, local farming, and traditional cooking methods through the education of tourists and local residents. 
Where travel is considered, a "slow" approach is one that emphasizes connections: to local people, cultures, food, music, etc. In other words, slow travel is a mindset that rejects traditional ideas of tourism and relies on the idea that a trip is meant to be an immersive experience, sustainable for both local communities and the environment.
How To Slow Travel
There are lots of levels when it comes to being fully integrated into a new place when you're traveling solo, as a digital nomad or a remote worker. But not to worry… it's doable.
Here are some tips to really make the most of your slow traveling and live like a local!
Visit During The Off-Season
The best way to not be viewed as a complete tourist in a new country is to visit during the off-season. The off-season is basically the time of year where certain cities and countries aren't overpopulated with tourism. In 2018, Spain was the second most visited country in the world, recording 82.8 million tourists which marked the sixth consecutive year of record-beating numbers!
That being said, it's easy to see why some locals might be tired of tourists, who are just passing through. The best way to feel integrated is to spend time in a new country when it isn't saturated with other tourists and to try to plan out an itinerary that includes cities that aren't major tourist destinations.
When you take time to be in a new location during the off-season, odds are you'll be welcomed with open arms. People will take interest in why you're visiting, what you're doing in the area and it will open up opportunities for more meaningful conversations and connections. Not to mention, when you visit during the off-season, you'll be able to experience everything for a much lower price.

Stay For Two Weeks Minimum
Rule of thumb to actually getting to know a new location: spend at least 15 days there. When you're in a new place for a short amount of time you'll be able to get the general vibe of what life is like there, but you really won't be able to dig under the surface if you're only there for 3-5 days.
While that might be ideal if you're looking to travel more, if you're looking to really get a local experience, take your time and get to know the area (there's a reason it's called slow travel after all!).
In the first few days, you'll get accustomed to the culture, people, food and new scenery. But after that, you'll be able to dig deep and really get to know the workings of a city. You'll be able to attend cultural events, exhibitions and events that might be much more meaningful than the Instagram photo in front of that special monument… but of course, if you're around for a while, odds are, you can do both!
Have a Local Host Show You Around
It's a fact that although big-time travel sites like Tripadvisor are great for references, they will never do justice like finding all of the hidden gems from people in the area. One of the keys to making the most of your experience in a new town is having a local host. Having a local host creates meaningful connections and even an opportunity to come back and spend more time!
That is one thing that makes many people's time at Sun and Co. so special. It is a fact that they have not one, but three hosts, who know the area well and strive to make every guest feel at home. Staying at Sun and Co. means you're able to have all of the knowledgeable information that many don't know about, and there is also the possibility that you'll be able to meet their friends, making you feel even more a part of the community.

Do Your Research
Although having a local host is like having a personalized Google (but better!), be sure to still do your research before you head out. This isn't to say that you have to have a detailed itinerary, quite the opposite in fact. When every minute is planned, you'll end up not having any room for surprises or worse, you'll live in constant FOMO – fear of missing out!
‍But doing a bit of research about the customs and best practices in the country that you're heading to will eventually help with creating meaningful experiences.
What is the weather like? Is tipping normal? What are some of the best local dishes? When you go in prepared, you won't spend the first days in culture shock or wasting time researching things while there.
Benefits of Slow Travel
By now you've probably already figured out that slow travel can benefit both the travelers and the community that they're visiting. Here are a few extra reasons you should consider traveling slowly.
Slow Travel Can Save You Money
When you're looking to settle down in a place for a few weeks or months, odds are you'll want to skip a typical hotel experience. Chain hotels tend to be pricey, and they don't offer the type of charm or experience that a local AirBnb, a homestay or even a coliving space like Sun and Co. would. And if you have a kitchen in your accommodations, even better!
You could shop the local markets for fresh ingredients and cook local cuisine at home, eating out only from time to time and hence saving a lot of money. Finally, while renting a car is a great alternative for day trips, just taking a couple of hours out of your day to go for a walk or a bike ride is a great way to save money on tours or transportation, while still getting to explore the surroundings. 

Slow Travel Prevents FOMO
Trying to see or experience as many things as possible within a short period of time can be exhausting. Ditch that to-do list that you created and embrace the slow travel mindset to avoid the stress of having to do or see everything. You can always head back to that destination later to see what you missed!
Slow Travel Fosters Connections
When you take the time to slow down and get to know the people in the city that you're traveling in, beautiful things happen. At Sun and Co. we've gotten to experience firsthand the way that deep relationships not only help people feel as if they have a great sense of community but also lead to success.
When you open up about who you are and your true journey, not just the highlights on social media, it allows for a much deeper sense of connection than you can ever imagine.
For more on this topic, see also "Why Coliving Is The New Coworking".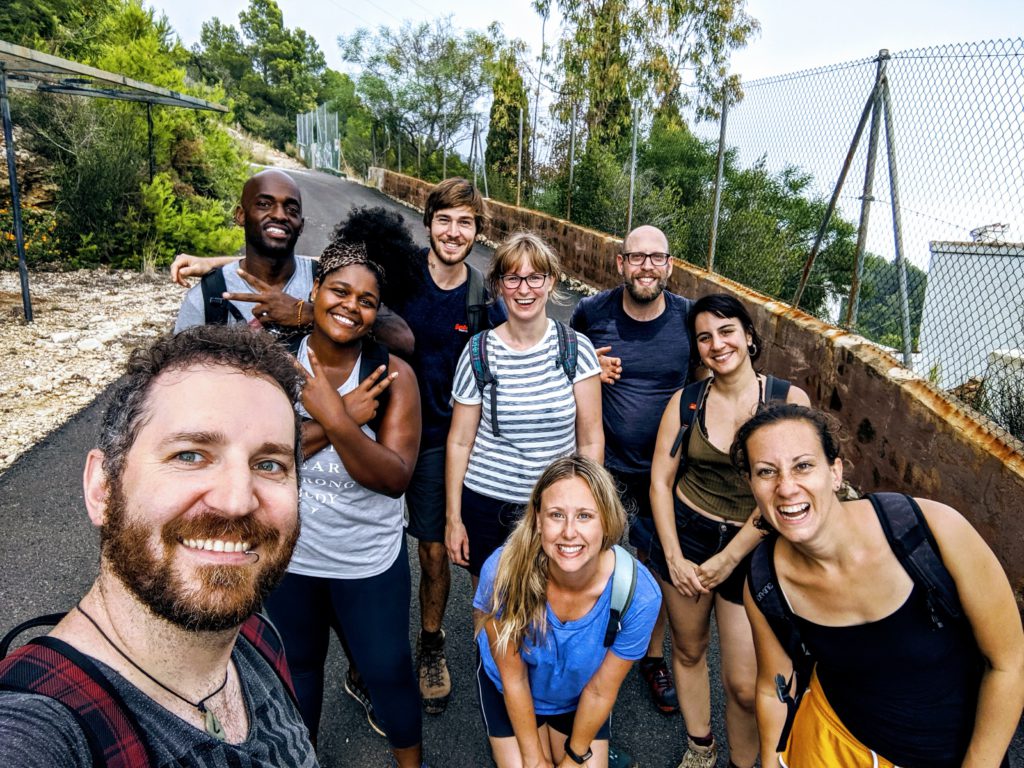 Slow travel may not be for everyone or all types of trips, but it is achievable. We won't blame you for wanting to climb Machu Picchu or for taking a photo in front of the Leaning Tower of Pisa.
But if you're craving a more authentic experience, one that leaves you with a feeling that you truly got to know the places, people and cultures that you've encountered on your travels, it could be time to slow down.
---
If you've found these tips useful, join the Sun and Co. Community to hear more! Follow us on social media and subscribe to our amazing newsletter to see what's going on in Javea and in our house ☀️