Coliving is a term that you may have heard, but like a lot of people, you might not be entirely clear on what it actually means. Simply put, coliving is a modern housing option that gives residents an opportunity to not only share their living space with one another, but also share similar intentions, values, and interests. It's all about collaboration and openness in the world of the sharing economy, along with an increased interest in living more sustainably and being part of a community. 
Is Coliving A New Concept?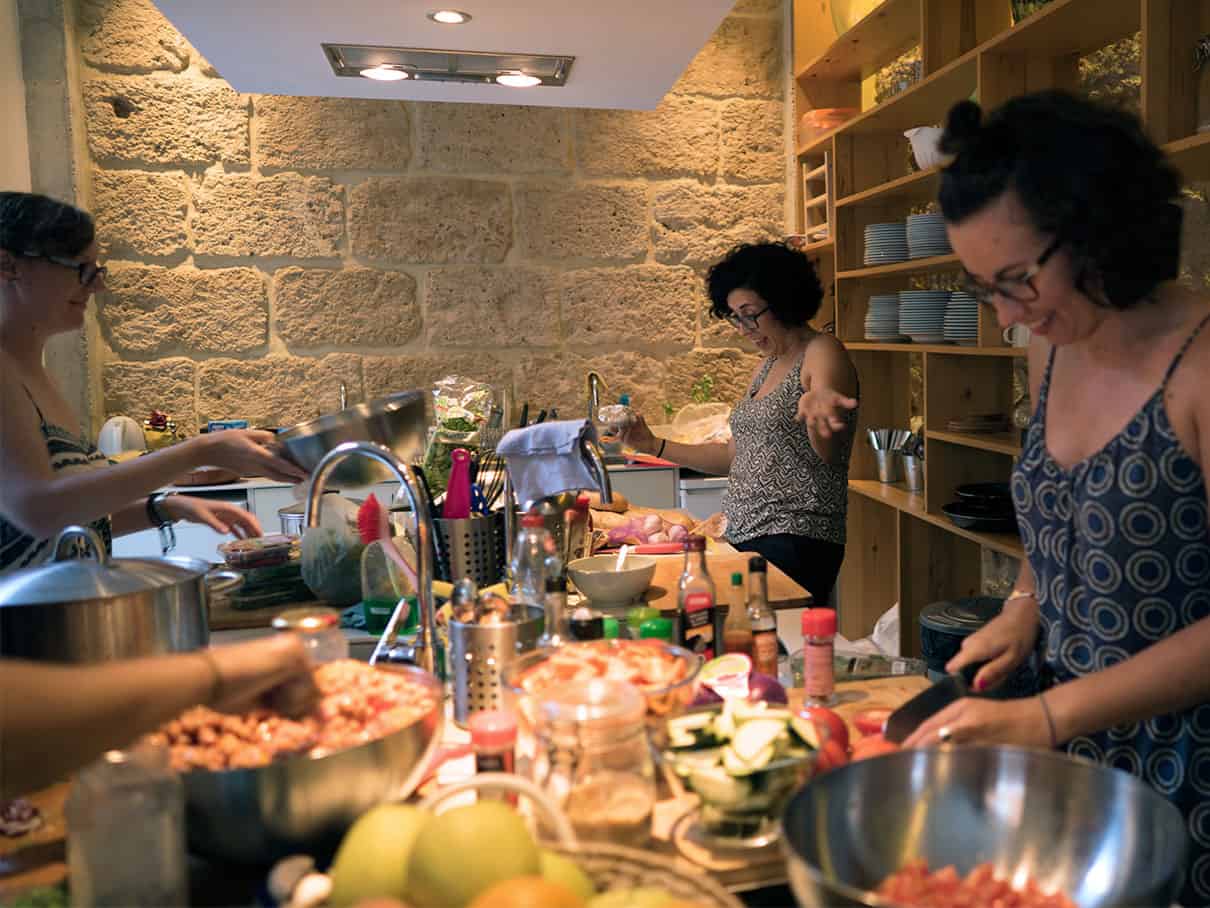 While coliving may be widely seen as new, it's quite the opposite in some ways. Since the dawn of civilization, humans have lived in close-knit communities for countless reasons, including survival, efficiency and affiliation.
Today, the coliving movement seeks to formalize a concept that has been around for millennia.
Following industrialization, our housing options became individualized and we ended up forgetting what it was like to live in a neighborhood or village where people know you by name and look after one another. But the human need for community and affiliation remains as important as ever. That's why we believe coliving may provide some of the answers for the problems we face in a complex world where individuals are becoming more and more isolated, especially now that remote working is on the rise.
Check out this video from The School of Life to learn more about the link between loneliness and our craving for community.
While in the past location independent and remote workers only had the option to either work from home or from the occasional internet cafe, today coworking and coliving spaces are dramatically changing the way we live, work and connect in the digital era (for more about the difference between coworking and coliving, read "Why Coliving Is The New Coworking").
Coliving is about sharing rather than consumption, and collaboration rather than competition. Coliving encourages sustainable lifestyles by making it easy to share resources.
It's a great way to change your routine if you're tired of the usual 9 to 5 work schedule, you crave more face-to-face interaction, or you simply want more out of daily life.
Coliving Spaces Are Not Just For Extroverts and Millennials!
According to coliving.com, coliving is all about community, but it also supports individuality. Even though coliving fosters a sense of community, being around others and collaborating with them, this doesn't mean that people in coliving spaces can't still enjoy some privacy and quiet time. The goal in coliving spaces like Sun and Co. is to combine design aesthetics and quality with privacy, in an environment where there are also shared resources in a communal space.
There's also a myth surrounding coliving that makes people think that this lifestyle is mainly for millennials. But the average age of our demographic is 35-40, and we also have customers who are in their 50s and 60s.
We cater to all kinds of travelers and professionals, including those who are older, so we understand that different people have different expectations and needs. 
Now that you know the basics about coliving, check out what is coliving at Sun and Co. for a sneak peek into a typical day at our home. Then keep on reading what some of our previous guests – Thalassa, Rachel, Hans and Ruth – have to say about their experiences at Sun and Co.
What All Coliving Experiences Have In Common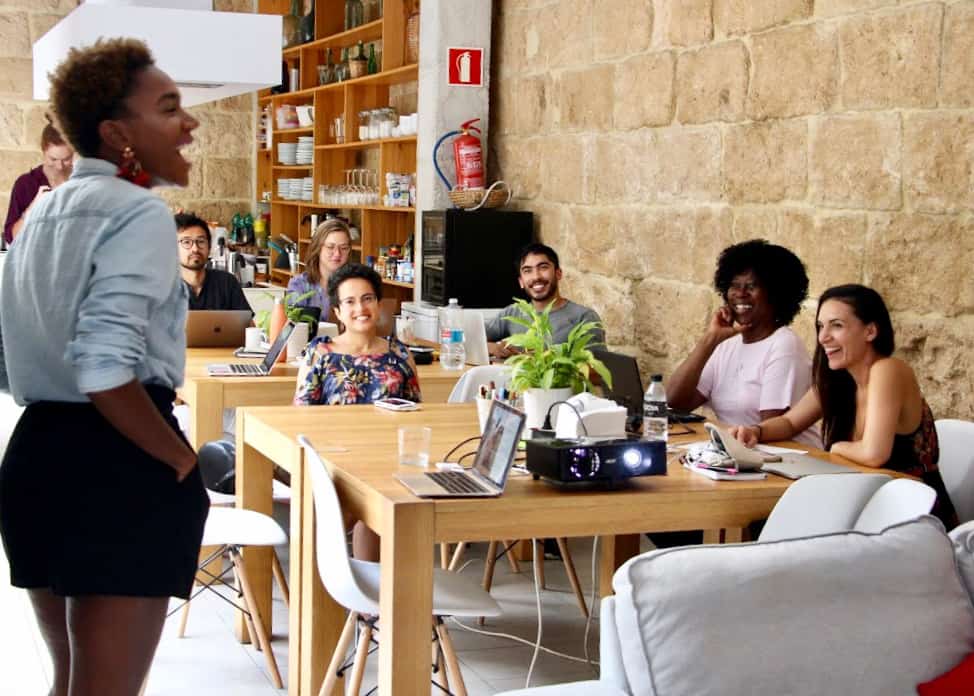 Thalassa, Rachel, Hans and Ruth are all very different in age, professions, and walks of life. But if you read about their experiences and thoughts on coliving at Sun and Co. you'll find lots of similarities in their takeaways.  
What makes coliving such a special experience is the fact that you can land into a really interesting and diverse group of people, who all share that same desire to connect, or having something to bring to the table, or something to teach others. There will be an element of like-mindedness in the group, but there will be variety at the same time. It won't just be young professionals, older corporate individuals, retired individuals, creatives, or students. It'll be all of these different kinds of people bringing in their own stories and backgrounds.
Diversity becomes an asset. You don't know exactly who you will meet, but you suspect that you might like them!
Plus our hosts, Silvia and Jon are always on-site to take care of you, bring people together and facilitate some of the events.
How Coliving Helps Me Grow My Business
Thalassa is in her early 30s and works as a freelance in social media and content marketing. She's based in The Netherlands, but since all her work is location independent, she travels several months throughout the year.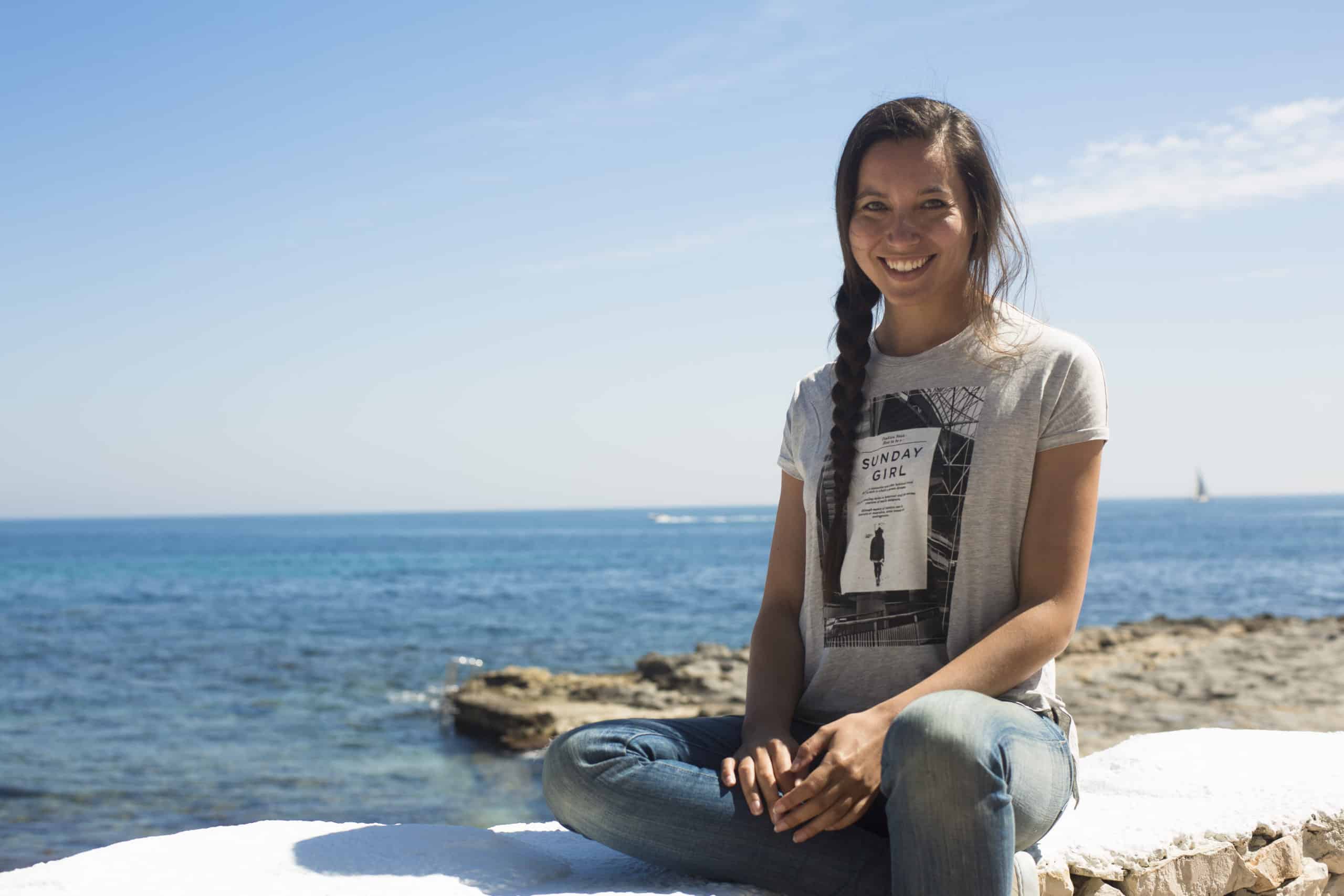 I walked up the stairs to my room, on one of the last days of my stay at Sun and Co. in Jávea, Spain. From one step to the next, everything just clicked in my head. I saw my entire sales funnel in front of me. I'd been working on what my next move should be for a while now, and this was it! I ran back down to my laptop and started writing, afraid I would lose this sudden idea.
I consider myself a 'part-time digital nomad'. I rent an apartment in the Netherlands, but all my work is location independent and I travel as often as I feel like – which is quite a lot. To me, this is the ultimate freedom; designing a life that works best for me. I could travel non-stop, but I choose to come back every few weeks.
I've discovered coworking and coliving by chance, but since I realized it's a 'thing', I don't want anything else. Not only because this scene makes me feel like I've found my 'tribe' (I was always an outsider growing up), but most of all, because every time I spend just a couple of weeks in a coliving space like Sun and Co., my business grows faster than it does during the months I spend at home.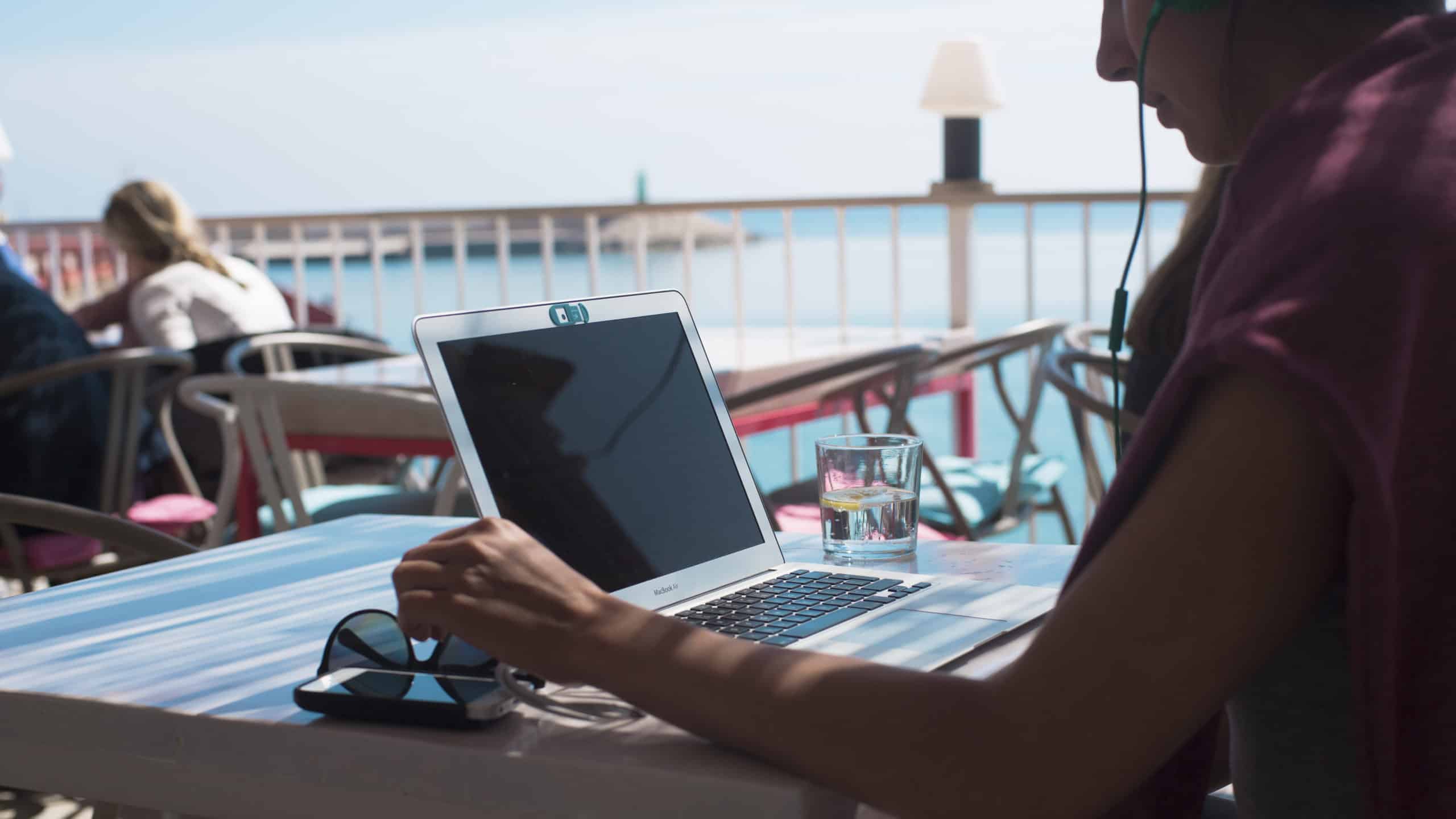 So what exactly is it that makes coworking and coliving so beneficial for me? I think the main reason is that my business is on my mind 24/7 when I'm in those places.
Everyone is there for the same reason –  to work on something that allows them to live the way they want.
As a result, when you're still working at 10pm, chances are you'd be sharing a desk with people hustling and happily working by your side. Such a positive impact on your productivity! The same positive effect you have when you're having dinner together or going out for drinks, or doing outdoor activities together. Often you will be discussing each others' ideas, thoughts, and business plans. And even when you're not talking business, you'll be sharing travel experiences and personal stories which, too, can be very inspiring. After all, people traveling from city to city always have an interesting story. And when a coliving space organizes skillshare and mastermind sessions, as Sun and Co. does, the inspiration will be even greater. When you see how others apply structures, strategies and tools to their businesses, you will get new ideas about your own possibilities.
See a couple of examples of Sun and Co.'s skillshares:
There's more, of course. The change of scenery and good weather work wonders for me! I get so demotivated when I spend too much time in my rainy home country. Then, if you're anything like me, you will try new things whenever you go to a new place; whether it's a new food, new sports, or new places you would usually never walk in to (hello rock bar!), it all helps to grow your ideas in new ways.
An Introvert Discovers Coliving At Sun and Co.
Rachel is a freelance writer and editor from Toronto, Canada. She's been a digital nomad since 2012 and now divides her time between her hometown and the rest of the world. You can find her online as the Nomadic Editor.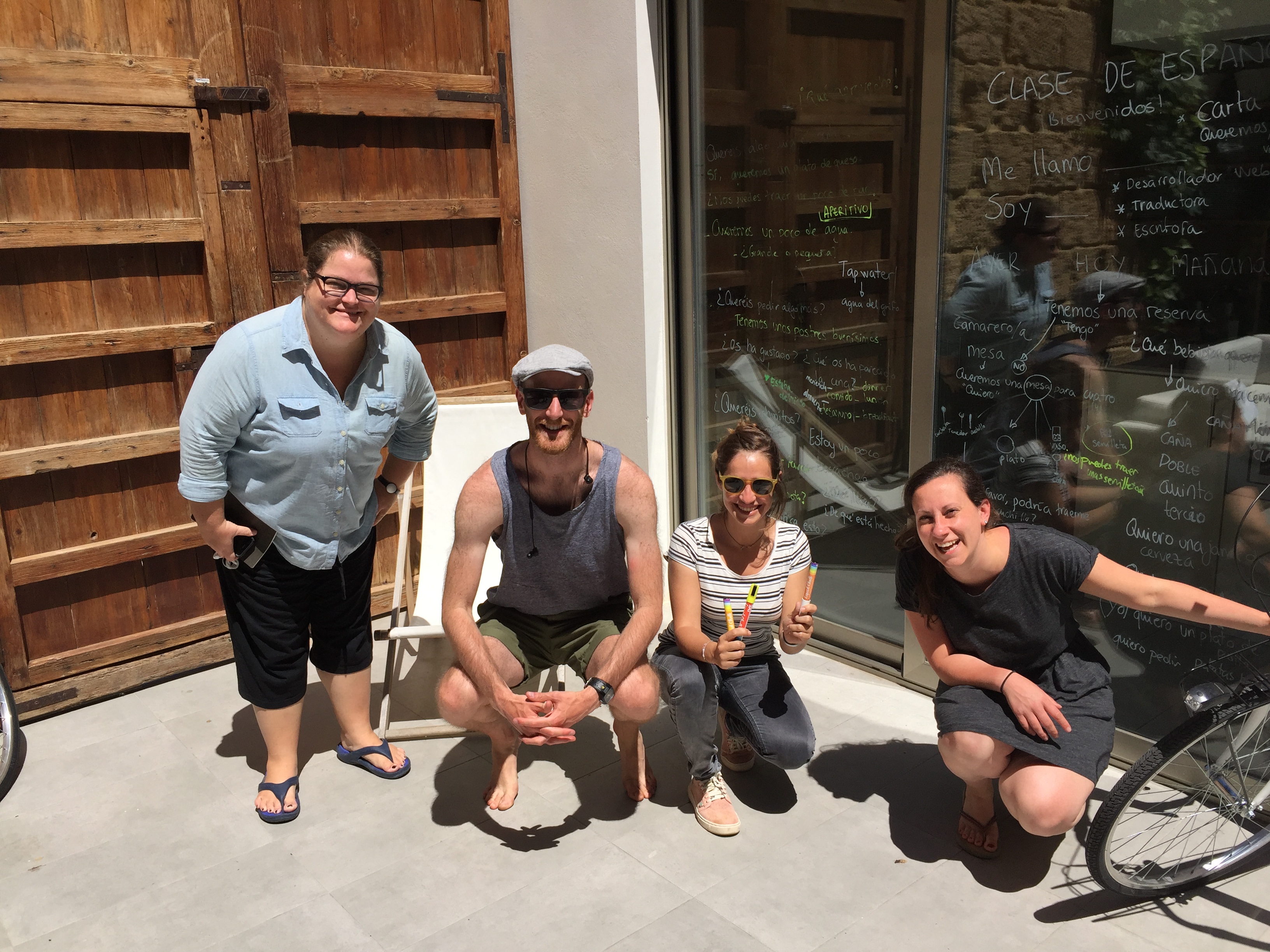 I started building my freelance editing business ten years ago. After a few years of freelancing, working from home all by myself, I got restless. And when my main client went digital (that is, they stopped sending hardcopy manuscripts and proofs), I realized that I could theoretically do my work from anywhere.
In the summer of 2012 I had never heard the term "digital nomad," but I packed up my laptop and left Toronto to travel and pay for my travels by working. At the time, there were coworking spaces in big cities like Toronto and London, but they were relatively new and focused more on local freelancers, telecommuters, small businesses, and creatives who needed office space. So, I worked in hotel rooms, cafés, beach bungalows, and even hostel lounges.
But the truth is, I'm not the best digital nomad—I'm easily distracted by the places I visit and my productivity suffers. I also get lonely.
And as much as I love seeing new places and meeting new people, I am an introvert. Making new friends is really hard. And socializing with casual acquaintances and strangers is exhausting and emotionally draining.
And so, despite being a digital nomad for the last five years, I often find myself going back home to Toronto. There I can throw myself into my work in a comfortable home office and spend time with the people who know me. Of course, the people who know me don't always get me. And I really can't stay home for very long!
In 2017 I decided to check out the new and growing coworking movement as part of my travels in India, Thailand, and Spain. As I suspected, coworking was great for my productivity—combined with the great pleasure of living in Thailand with good friends, it made me even more productive than I am at home in Toronto. So, when I travelled to Spain on my own, coliving seemed like the next logical step.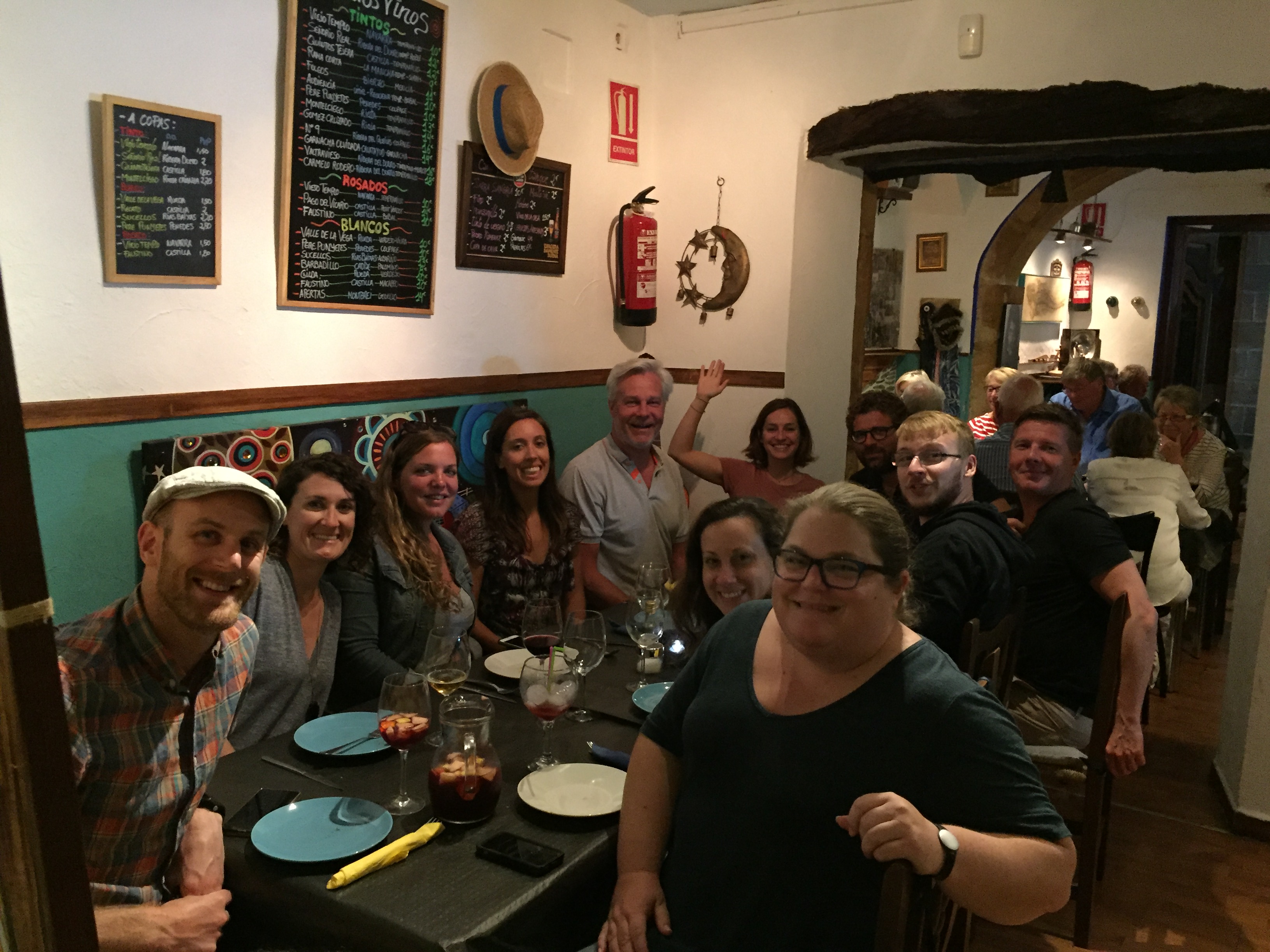 The idea of moving in with a bunch of strangers may not seem like a good fit for an introvert. But while introverts enjoy (and need) time on their own, being a solo traveller can be too much of a good thing. The inclination to hide away from the world can make the digital nomad life a lonely one for an introvert like me. Coliving is the perfect antidote.
Sun and Co. gave me exactly what I needed: a comfortable workspace, an interesting destination, and a friendly, supportive community. Sun and Co. was also refreshingly inclusive—so much of the digital nomad world revolves around entrepreneurship and tech—but I never felt out of place for being a boring old freelance editor. In fact, Sun and Co. has convinced me that coliving is right for me—giving me the community I need when I'm facing introvert burnout. 
How Coliving Helped Me Get Unstuck
About the author: Hans is 60 and works as a Happy Business Coach. He believes in discovering and using the potential of entrepreneurs to make a social impact.

Do you remember the moments when you felt stuck, and no progress was made? Nothing new happened, no inspiration came to you, the energy was …somewhere, and a glass of wine didn't help either … Where did the magic go? How can you make progress in your business-life? And…where to start?!
As a human being, a great deal of what you do every day is based on the same routines, also known as habits. This can be a good form of discipline, but if you want to make real progress and break away from your daily habits, you gotta make an effort at first. Look at your habits for a moment, and then start changing them step by step according to your goals.
Habits make a warm and nice comfort-zone for you to live in. But while stepping out of this zone by opening up, being vulnerable, and do stuff that might scare you requires an effort at first, you have to do so if you want to feel alive again. Out of the comfort zone is where you experience your hidden feelings like fear, curiosity, happiness, passion and so much more. It's what it's called the growth zone! So meet different people, try a new sport, taste some exotic foods (or drinks) or even take a trek in some beautiful scenery. Feel alive again, and new ideas and inspiration will come!

My Experience With Coliving At Sun and Co.
So why am I telling you all this? Because this is what I experienced and learned from my time at Sun and Co. (twice!). Somehow the experience loosened me up, pushed me to be more social, encouraged me to discover the most beautiful sceneries, learn a new sport, and so much more.
I'm used to working at flexible locations in my home country – the Netherlands, working and interacting with the local nomads, but this does not have the same effect as a location such as Sun and Co.
The big difference is combining living and working in one location, which brings a totally different dynamic.
Coliving and coworking in a beautiful location with beautiful scenery, made me break past my boundaries. My experience resulted in my productivity improving, me feeling happy and refreshed, and inspiration and new ideas popping up constantly. 
Why Coliving In Spain Made Me A Better Copywriter
About the author: Camilla is a copywriter from Melbourne, who creates content for fashion and lifestyle brands all over the world. 

Beaches, brainstorming and business inspiration. What's not to love about coliving in Spain? Here are 5 ways the experience made me a better copywriter.
Upon first hearing of coliving, it sounded a lot like a glorified hostel with laptops. But I was very, very wrong!
Luckily for me and for the sake of my productivity, spending a month coliving in Spain turned out to be one of the best things for my copywriting business and personal growth. Here are just a few of the reasons why I'll be returning to Sun and Co. as soon as possible! 
For a start, Javea is not a party town. There are cute little restaurants and bars everywhere, and the occasional club by the beach, but if you're looking to get wild, then Javea is not your jam. However, if your goal is to rejuvenate your day with a dip in the ocean and away from the busier main cities, just hop on a bus from Valencia or Alicante and head to Sun and Co. to zone in on your to-do list.
  I learned to keep it simple
Writers are a show-offy bunch. Sometimes I like to use big words to prove how intelligent I am because I have blonde hair and people assume all I do is shop. Living in a coliving space full of people who learned English as a second language taught me to get off my high horse and write with comprehension and clarity in mind. If there's a shorter, simpler word to use, I'll use it from now on!  
     I'm more motivated than ever
Come 5pm on a typical Friday in Melbourne, you can find me with a glass of wine (or two – or a few) in hand. With people around me keen to enter the weekend early, it can be hard to motivate yourself to spend that extra hour at your desk. But when you are at Sun and Co. at 5pm on a Friday night, chances are most people will be tapping away enthusiastically at their laptops. Who wants to watch Netflix when you're in a room full of people kicking goals? Not me!
     I learned to manage my time better
If you know me well, you'll know that I am the most impatient person ever. Because I only had 3 months overseas to explore, I originally booked just 2 weeks at Sun and Co. Eventually I learned that this wasn't enough time to get in the flow, which is a lesson I'm now applying to all of my copywriting work. And so I've extended my stay and ended up spending over a month in Javea! Give a slower pace a try – if I can do it, so can you.
    I learned that no writer is an island
Remote workers have a tendency to sometimes hide behind their computers. Too much work, too little time, too many excuses. The truth is, you can't actually expand as a person or a business if you keep yourself hunched over a screen all day, drowning out the sound of the world with your noise-proof headphones. Connecting with lots of different people from a variety of industries, countries and walks of life brings a fresh perspective to your business. When you visit Sun and Co, impromptu masterminds are a great way to bounce ideas off people. It's like an episode of Shark Tank, but with emotional investment instead of financial investment.

So, there you have it: regardless of age or walk of life, there's a coliving arrangement out there for you. Coliving offers everyone from the working professional to the digital nomad a new way to live a more balanced and fulfilled life, focused on community and collaboration. Here's a list of the best coliving spaces in Spain to get you started.
Are you ready to give it a try and see where your next adventure takes you? Set your sights on the south of Spain and head to Javea – you won't regret it!
Check our prices and availability here and… see you soon in Javea!