Are you working from home most of the time and feeling increasingly lonely? Ironic as it might sound, you are not alone!
In a time filled with hundreds of digital tools to solve the problem of collaboration and communication, loneliness continues to be one of the top challenges for remote workers. Not surprisingly, considering that 80% of them work primarily from home, and only 7% from coworking spaces – according to the latest State of Remote Work by Buffer and AngelList.
And this was before the COVID-19 outbreak took the western world by storm in March 2020! With most of us suddenly forced to live in isolation, working from home has quickly become the norm for most people – and so has work from home loneliness.
Today we know that loneliness leads to poor outcomes on many different levels. Specifically, loneliness at work negatively affects employees' physical and mental health, let alone productivity. From an employer's point of view, this means that encouraging connections between remote team members is paramount to reduce turnover and improve team collaboration by building relationships.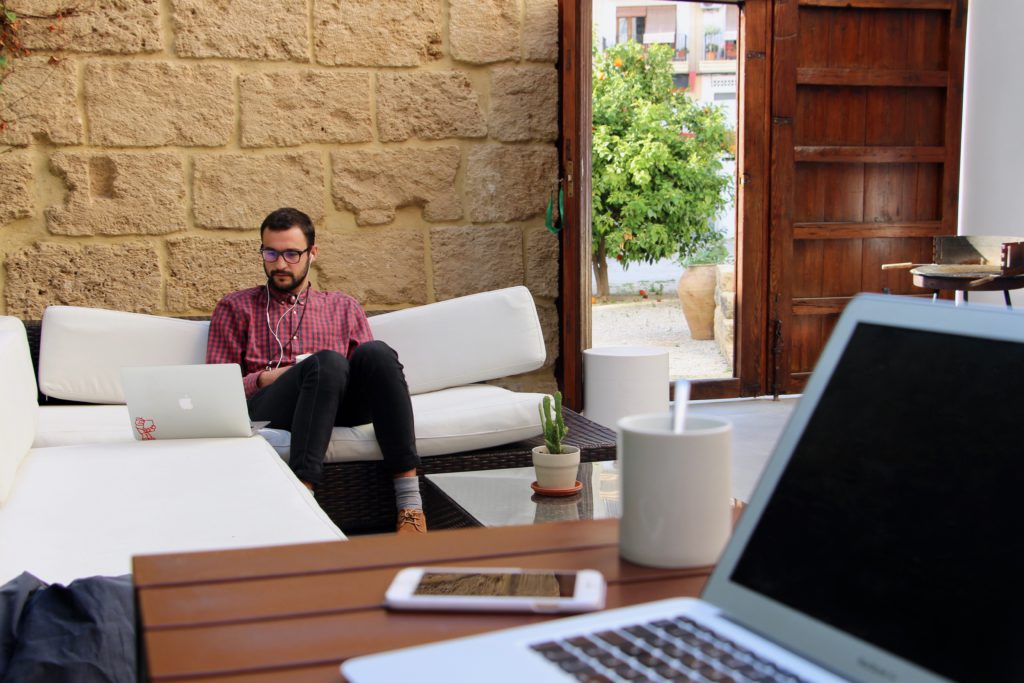 Let us pause for a minute. Before we continue, it's important to highlight a fundamental difference between working from home and working remotely.
Working from home is a temporary situation. It is what you do when you work in an office during the week, but one day you decide to stay home because you need a change of scenery. Or because there's a pandemic going on and all offices are closed until further notice!
Working remotely – or being a remote worker – is an entirely different approach to getting things done. It means you do not have an office, or you work outside of it all the time. It's a lifestyle that requires a variety of skills and resources to be able to create your own work environment, from scratch.
Before COVID-19 struck, most people were not used to working remotely. Surely the occasional working-from-home day was welcomed by most, but unless you were already an established remote worker or so-called 'digital nomad' (aka a remote worker that also travels full-time), chances are you were largely unprepared for spending so much time away from your colleagues and teammates.
And the moment you realise how much you miss office banter and coffee breaks, that's when working from home becomes lonely.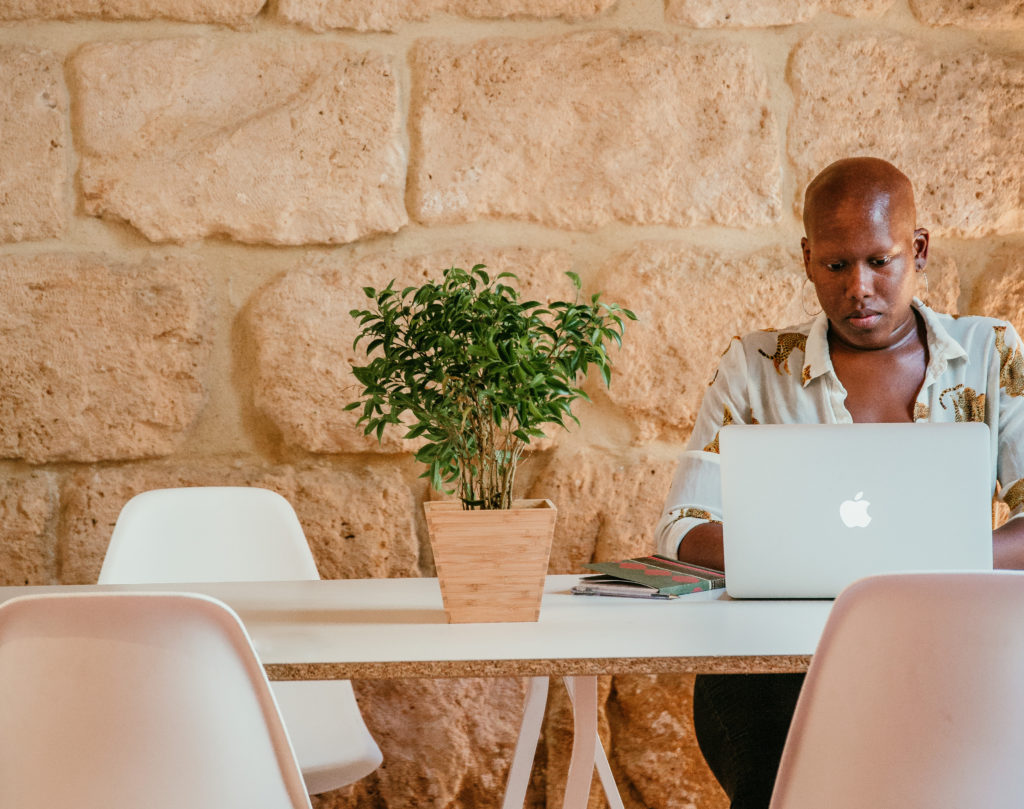 There's also another factor you might not have considered. Beyond the lack of interaction with colleagues in the office, when you are not physically going out of your house you might also suffer from a lack of interaction with the wider world.
Think about it. You might sometimes loathe the daily commute to work – all that bumping shoulders with strangers in a train carriage, rush hour frenzy and being stuck in traffic. There's certainly all that, but there's also the friendly chat with the barista at your local coffee shop, the impromptu meeting with your neighbours, or just the funny conversations you sometimes overhear on the bus.
The truth is, the main way most of us are connected to our local and geographical communities is through work. So when you remove that, you strip off another layer of social connection.
Check out this video from The School of Life for an interesting perspective on the link between loneliness and our craving for community.
How To Avoid Loneliness When You Work Entirely From Home
Here's the thing: physical distancing – or working remotely – doesn't have to equal loneliness! A certain degree of work from home loneliness is normal from time to time, but this is far from saying remote work causes loneliness.
Did you know that in the U.S., loneliness has been labelled an epidemic worthy of a public health intervention? Moreover, according to a study from the British Red Cross, almost 1/5 of the population in the UK has reported being "always or often lonely".
If anything, remote workers feeling lonely is just a reflection of a larger-scale societal struggle with loneliness that is more complex than you might think.
For more on this topic, check out this post below.
So how do you avoid loneliness when working entirely from home? The keyword here is a simple one: connection. Being connected to other people – or in other words, feeling like you belong – is one of the basic human needs, just like the need for food and shelter.
And when you're not physically sharing a space with other humans you have to work harder to feel connected.
Are You Working From Home And Feeling Lonely? Here Are 10 Tips To Avoid Loneliness
Here are our top ten tips to avoid feeling lonely while working from home. By following these strategies, you can ensure you're forming and maintaining meaningful connections with like-minded colleagues, even if you're not face-to-face with them every day.
How to Overcome Remote Work & Work From Home Loneliness
Connect With Like-Minded People Online

 

Create Lunch-Time Conversations From Your Home Office

 

Talk About More Than Just Work With CoWorkers

 

Call Your Mum

 

Don't Forget To Move

 

Make After-Work Plans

 

Consider Joining a Coworking/Coliving Space

 

Arrange Remote Coworking Sessions When You're Working From Home

 

Get A Pet

 

Don't Work From Your Bedroom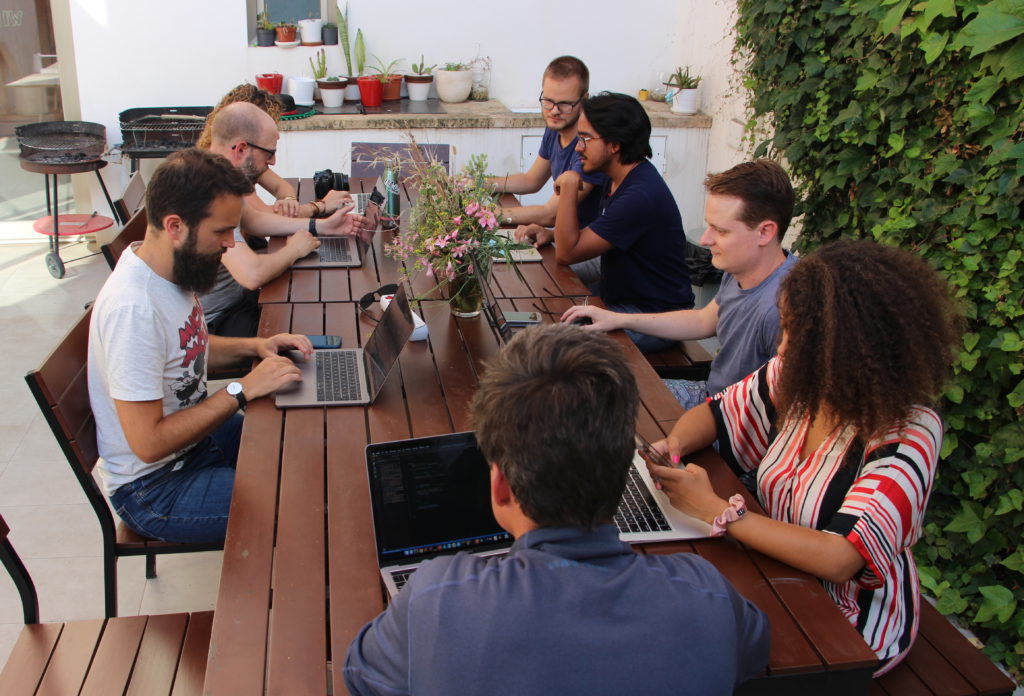 Connect With Like-Minded People Online
Since you're not physically interacting with coworkers, it's important to seek out an online community of like-minded people. It doesn't have to be just people in your field of work, it can be anything related to a subject you are interested in; or perhaps a skill you want to learn; a community that rotates around an interesting app; or your favourite coliving space in Javea 🙂
Facebook communities are easy to find and generally quite active. Make sure there are clear guidelines in place, one or more administrators to screen members and act as moderators, and that – of course – the subject is relevant to you! Here are a few examples:
Create Lunch Time Conversations From Your Home Office
Missing the office banter more than you thought you would? Or perhaps you don't like eating lunch by yourself? While chatting with colleagues in the office can sometimes being distracting, when you work entirely from home you might end up craving those casual lunch-time or coffee-break conversations with your teammates. But it doesn't take much to recreate those moments!
With a bit of planning, you can have lunch while video chatting with a coworker every so often. Or just hop on a video call for fifteen minutes with your favourite colleague, while having a coffee or a snack. It might seem like a small thing to do, but it will make a huge difference in reinvigorating your productivity and decreasing negative emotions.
Make An Effort To Get To Know Your Coworkers
Small talk in the office is often seen like a waste of time, yet somehow a necessity to be considered 'human'. How many times have you received an email from a colleague asking you about your weekend, quickly moving on to the next work topic? Did you feel like they really cared about how your weekend went? No, we didn't think so either.
As psychologist Robert Cialdini says, sharing small personal details can create bonds that enable deeper relationships between people, both on a personal and professional level.
So next time before starting a meeting, don't be afraid to ask your colleagues about their weekend, or their recent vacation. Having space to share information about your personal life – and being encouraged to do so – goes a long way towards feeling more connected to your coworkers.
Just be mindful to show genuine interest in their personal life, and really make time for everyone to share before moving on to talk about work!
Call Your Mum
And your dad, your siblings, your auntie, your best friends, and even your friends that you haven't talked to in a while. If you don't get to spend much time working or socialising with your teammates as a remote worker, make plans with friends or family members during the week when you're feeling lonelier than usual.
Do it over video calls, too! Using your preferred app such as Skype, Zoom, Google Hangouts, Whatsapp, Whereby… the choice is yours, but the important thing is that video calls provide a facsimile of in-person interactions (think body language, facial expressions and all those details that make online conversations more real).
Talking to friends and family will make you feel part of a community, giving you that sense of belonging that we've seen is such a crucial part of being healthy.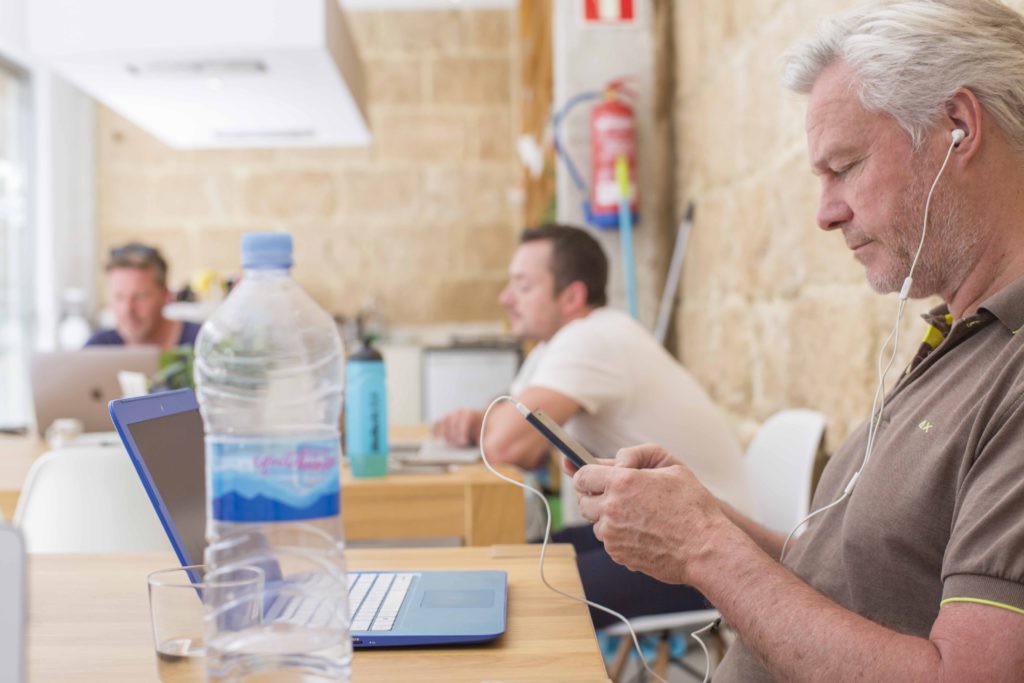 Don't Forget To Move
Studies have shown that exercise improves mental health by reducing anxiety, depression, and negative mood, also improving self-esteem and cognitive function. So it goes without saying that you should incorporate some kind of exercise routine into your working from home day.
Even if you can't get outside for a run or walk, there are plenty of options to get your blood flowing without leaving your home! Stretch, jump, practice yoga, lift some weights, dance around… just make sure to find an activity you enjoy and plan some time for it every day. And if you join an online class, you'll have the extra perk of seeing other humans – like you were at the 'real' gym!
Make After-Work Plans
One of the main reasons people choose to work remotely is to gain more control over their work/life balance. But in reality, when your office becomes your home full-time, drawing lines between work and personal hours it's often one of the hardest things to do.
Making plans for after-work (virtual) dinner or drinks is a good way to help you set those boundaries and gives a hard stop time for your workday. It isn't so much about filling your after-work calendar with all kinds of social events as it is making sure you are consciously building in time to get the socialising you need… and to get off of the computer!
Consider Joining A Coworking/Coliving Space
This option is also related to the concept of being part of a community, but this time a physical one. So keep it in mind for after COVID-19!
Being part of a community is more than simply being in the same space as others. It's the experience of connecting with others who share your values, or appreciate the same things you do, or want to support you without asking for anything in return. Find out more about what to expect when you join the Sun and Co. community, for example.
And then check out the best coliving spaces in Spain here for more inspiration.
Arrange Remote Coworking Sessions When You're Working From Home
Regular human connection not only prevents loneliness, it also increases productivity by reducing the likelihood that a remote worker will procrastinate or become distracted. Today you can find apps like Focusmate that provide a virtual coworking community to help you get things done, while making you feel like you're working alongside other people.
You can also do this by getting together a group of friends or coworkers on Zoom video, set a timer for 60 minutes, mute yourselves, and dive deep into your work. Then check-in at the end of the hour for accountability, and share what you have accomplished with the rest of the group.
Get A Pet
Not all social interactions have to be with humans! A study revealed that 87% of those who reported experiencing "a great deal of stress" in the past month were able to reduce it effectively by spending time with a pet, which may be even easier to accomplish when working from home!
Don't Work From Your Bedroom
We all know that when working from home it can be extremely tempting to reach for your laptop and type away your day from the comfort of your bed (hello, all-day pyjamas!). From time to time, this is perfectly ok and can feel like a real treat. But when you work from home for a long period of time, working from your bedroom can be very bad for your sleep quality.
How is this related to loneliness, you ask? Well, studies have found that getting the right amount of sleep is also connected to lower loneliness scores. And of course, increased productivity during the day.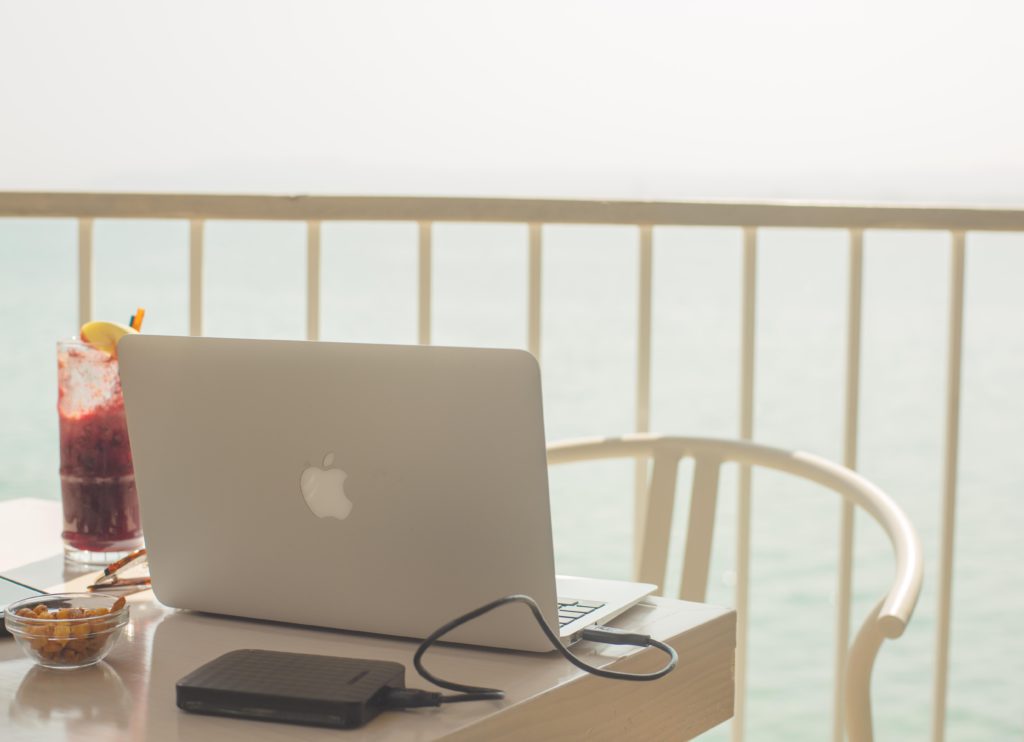 Conclusion: Working From Home Doesn't Need To Feel Lonely
Most people will agree that there are plenty of advantages to working from home. But it doesn't come without some effort, despite the classic social media representation of the 'digital nomad' chilling by the pool while sipping exotic cocktails and, you guessed it, working on a laptop!
For a start, you'll need to have a lot of self-discipline to be able to stay focused and not get distracted easily (Pomodoro technique anyone?). You'll also need to be great at time management, able to work on your own, keeping yourself motivated, structured, and organised without constant supervision. And of course, you need to be ok with working alone and spending most of your day by yourself (or going to coworking/coliving spaces when you can).
Is it worth it? Definitely yes.
According to Buffer and Angelist's 2020 report on remote work, there's one statistic that remains unequivocal each year: remote workers almost unanimously want to continue to work remotely (at least for some of the time) for the rest of their careers. Moreover, once people get a taste of working remotely, they tend to recommend it to others.
One last finding of the report suggests that home is consistently the number one primary work location for remote workers. In 2018, 78% of respondents indicated they worked mainly from home; in 2019, it was 84%; and in 2020, it is 80%.
So next time you are starting to feel lonely after working from home for a long time, just pause and remember that what initially excited you about remote work – a flexible schedule, no commute, a better work/life balance – is still within reach. You just need to be extra mindful when it comes to foster connections and follow these tips to prevent loneliness. Feel free to pick and choose, find out which ones work best for you, and we guarantee you'll be on your way to staying happy and productive!
And the best part? You can keep wearing your pyjamas!
If you've found these tips useful, join the Sun and Co. Community to hear more! Follow us on social media and subscribe to our amazing newsletter to see what's going on in Javea and in our house ☀️