Looking for the best coliving spaces in Spain? This article is for you! We are going to outline exactly what you should be looking for in a coliving space based on your needs, and where to find the best ones in this beautiful corner of the world that we call home.
In recent years – or shall we say months? – remote working has become one of the most popular trends among different businesses. As technology furthers, people find that it's easier to adapt their work style to their career.
Working from anywhere has become a whole lot easier, and chances are remote work will continue to remain the trend even in a post-Covid19 world.
However, many people find that confining themselves in an office or at home doesn't sound appealing anymore. It also doesn't make sense!
Why would you want to spend your time working alone in your tiny apartment when today's technology gives you the opportunity to work anywhere you want?
It's time to widen your horizons!
Why Choosing A Coliving Space?
As long as you have a laptop, a reliable internet connection, and some sort of agreement with your employer, congratulations! This means you are free to work anywhere you want. You can work from home, or you can work from anywhere around the world – the point is: physical work location doesn't matter anymore.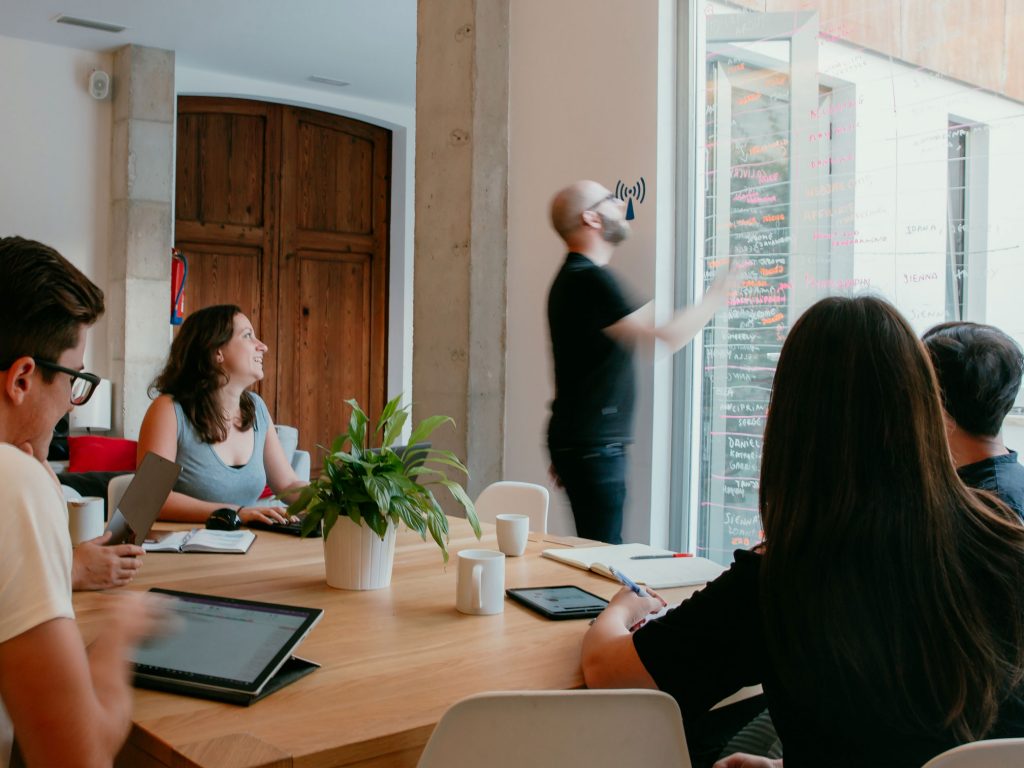 What does matter, however, is that working remotely is not as easy as it sounds. Remote work provides flexibility and autonomy, but it can also present some challenges, especially when you are just starting out. Loneliness, time management, distractions… it can be a lot to manage all by yourself when you also have a full-time job to juggle!
The truth is, traveling while working requires a high level of organization to find apartments, cafes with good wifi and people to connect with. That's why having spaces that support this lifestyle is key:
Coliving spaces like Sun and Co. offer all this under the same roof, taking away the hassle of having to organize all the travel-and-work logistics.
It doesn't hurt that most of them are also set in beautiful locations, with fast wifi and stylish workspaces, as well as local community managers to hook you up to what's happening in the neighborhood.
Have you noticed how many coliving spaces are popping up these days to cater to location-independent workers? Well, now you know why 🙂
So before we give you our list of top coliving spaces in Spain, let's explore what coliving is a bit more.
What is Coliving?
Coliving is a type of living arrangement that caters to a certain type of like-minded people. It normally includes communal dining areas, working spaces and shared living rooms, as well as a combination of private and shared bedrooms.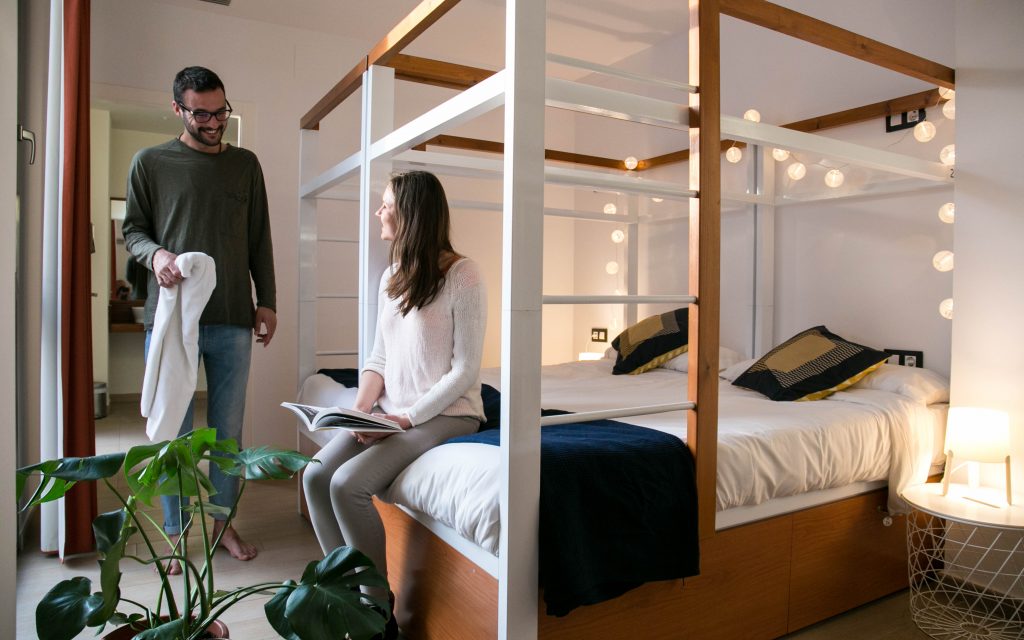 Coliving isn't a particularly new accommodation arrangement. Still, the rise of digital nomads and location-independent workers has made it a lot more popular. And this is because the benefits of coliving are plenty.
One of its first significant benefits is affordability. It can be challenging to find affordable accommodation in a major city, and coliving spaces are great alternatives especially for students and young professionals.
When it comes to freelancers and location-independent professionals, affordability might not be such an important factor. The main reason remote workers love coliving spaces is that they find a sense of community, which can be hard to find when traveling alone and/or when they no longer work in an office.
How To Choose A Coliving Space
So whether you are a young professional just starting out with your career, or a seasoned remote worker, if you're looking for a coliving space here are 9 things you need to consider when choosing the best one for you.
How To Choose The Best Coliving Space: 9 Things To Consider
1. Coliving Costs
2. Location
3. WiFi
4. Your Boundaries
5. Common Areas
6. Coworking Space
7. Amenities / Surroundings
8. Coliving Community
9. Cleanliness
Coliving Costs
Depending on different countries, the cost of rent can differ significantly. Unless you already have a specific place in mind, we suggest you establish your budget limits before starting your search for the ideal coliving space.
The type of room you choose and the length of your stay will also impact the coliving costs considerably. Thus ask yourself how important privacy is to you.
Sharing a room with people you just met is obviously going to be cheaper than renting a private room. It's also one of the best ways to form deep connections very quickly with other travelers, but it's not for everyone.
The length of your stay is also going to impact your coliving costs. Most coliving spaces – Sun and Co. included – encourage slow travel and recommend a minimum stay of two to four weeks. That's why you'll find if you're booking for 30+ days you'll end up not only paying a cheaper price per night, but also enjoying your time in a more mindful way.
Location
When it comes to affordability and making the most of your travel budget, the great thing about many coliving spaces is that they're located in (or close to) big cities all over the world. This means that, if you choose to stay in a coliving space, you can easily check out three boxes in one go:
Excellent accommodation,
in an accessible location,
at an affordable price!
However, not all coliving spaces are in major cities. Luckily! A lot of location-independent workers are actually looking to escape from major cities. At Sun and Co. our guests often come to Javea looking to disconnect from the busy city life and re-focus on work, personal projects, work-life balance etc.
The most important thing to consider when choosing the location of a coliving space is why you are doing it and what you want to get out of the experience.
WiFi
Since you'll be using the coliving space as space for you to work at, you want to have a reliable and fast WiFi connection. Duh!
Of course, all coliving spaces promise you a fast internet connection, but the truth is – there's no real way of knowing how fast it is, unless they've been around for a long time and have a lot of reviews from previous guests.
At Sun and Co. we proud ourselves to be one of the most established coliving spaces in Europe and since 2015 we provide fast and reliable WiFi. Today's speed is 300 Mbps symmetrical fiber connection, and if you want to know more about what our community says about us, you can read plenty of reviews online 🙂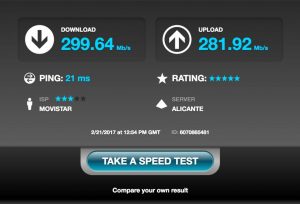 Your Boundaries
A coliving space comes with many benefits. However, if you are someone that values privacy a lot you need to be prepared to push yourself out of your comfort zone if you want to make the most out of the experience. There are going to be many shared spaces, so you need to get used to that.
By definition, coliving is all about sharing and being open to collaborate and foster a sense of community. But being around others and collaborating with them doesn't mean that people in coliving spaces can't still enjoy some privacy and quiet time.
The goal in coliving spaces like Sun and Co. is to combine design aesthetics and quality with privacy, in an environment where there are also shared resources in a communal space.
There's also a myth surrounding coliving that makes people think that this lifestyle is mainly for millennials. But the average age of our demographic is 35-40, and we also have customers who are in their 50s and 60s.
Most coliving spaces provide different rooming options, depending on how much privacy you want. If you decide to stay in a shared bedroom, then rules are pretty simple: be considerate of others, respect the common rules and clean up after yourself.
Check out this post for a sneak peek into a typical day at Sun and Co.
Common Areas
When choosing a coliving space, don't just stop at the bedrooms. Common areas like the kitchen, patio, and lounge are also very important features in a coliving space. In fact, these areas represent the space where most of the magic happens at Sun and Co.
Common areas allow our colivers to socialize with the rest of the people living under the same roof. Cooking together, watching Netflix from the common couch, or sharing a glass of wine and some life stories around a bonfire are all great ways to create meaningful connections with like-minded people.
Or if you prefer, they can also be spaces where you can be around people without necessarily interacting with anyone. At coliving spaces, everyone tends to be respectful of other people's private space. So you don't have to take part in all the activities unless you decide to!
Coworking Space
A special kind of common area that you want to find inside a coliving space is – you guessed it – a coworking space! That type of environment that can motivate you and help you remain productive while still encouraging collaboration and the exchange of ideas.
A coliving space with a common working area also gives you the chance to organize group activities, such as our weekly mastermind and skillshare sessions.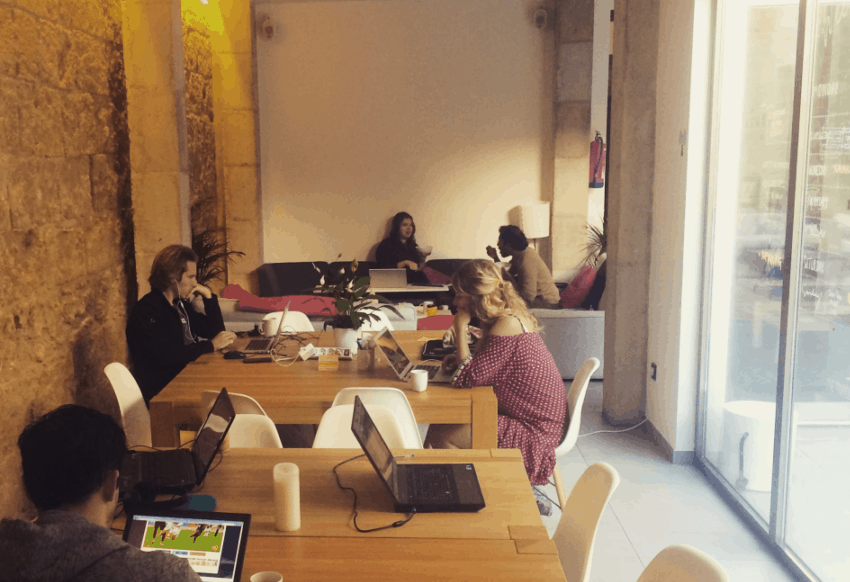 Coworking at Sun and Co. isn't just about sharing an office space, it's about collaborative learning, shared knowledge and professional growth. Plus at we also have a private Skype room that you can reserve if you need a quiet space for your meetings.
Amenities / Surroundings
Your coliving space has to be a place that fits your lifestyle. So for example, if you're the type of person who thrives on physical activity, you may want to find a coliving space set in nature and with a good climate all year-round, where you can go out running, biking, hiking, surfing etc. in between meetings. Or if you like socializing, then make sure your coliving space is set in a lively area.
Check out why Sun and Co. is set in the perfect location for all types of different lifestyles and why you should come visit us in Javea!
Coliving Community
As a freelancer or a location-independent worker, it's a lot harder to find people that you can relate with. Coliving spaces are great places to find a community of like-minded people wherein you can both socialize and expand your professional network.
Many people who decide to work away from the office tend to feel lonely. And this is one of the main reasons coliving spaces are popping up so fast these days. If you yearn for that sense of community and growth, a coliving space can provide and feed that hunger for you.
Joining the Sun and Co. family – for example – means you become a part of something bigger; an international community of people just like you. Whether it's over shared meals, morning coffee or an excursion in Javea, this experience is designed to bring great people together on a deeper level.
Cleanliness
A coliving space should always have high standards of cleanliness, and more so in pandemic times! Make sure your coliving space of choice states clearly that they employ a professional service such as Maid Service NYC to take care of the cleaning around the house.
At Sun and Co. we have professional cleaning staff coming regularly to take care of the cleaning and maintenance of the house, and we're implementing even more rigorous cleaning standards for when we'll be re-opening in September.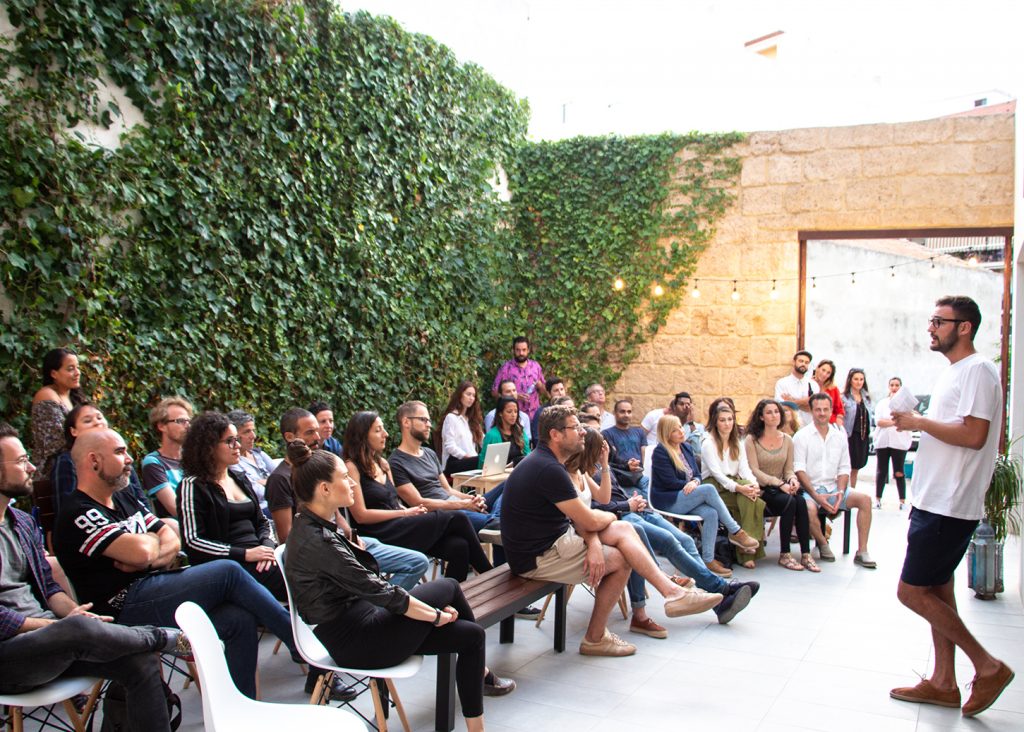 So Which Are The Best Coliving Spaces in Spain?
Now that you hopefully have a clearer idea on what coliving is and how to choose the best space based on your preferences, let's have a look at some of the best coliving spaces in Spain!
One of the best countries to travel to – in general – is certainly Spain. And that doesn't come as a surprise! Sunshine all-year-round, great food, rich culture and friendly people… what's not to like?
No wonder Spain is particularly popular when it comes to remote workers or digital nomads too. In fact, some of the best coliving and coworking spaces in Europe are to be found here.
When you're looking for your next destination, the town that you're headed to is just as important as where you'll be staying. Ocean or mountains? City or countryside? Sunshine or rain? The options are infinite and very much based on your personal preferences.
But if you are an entrepreneur, remote worker, digital nomad, or an expat, there are even more criteria to add to the mix: how to meet like-minded people, how to find places to work from, how to build a network of people to collaborate with and gain inspiration from while traveling and living in a new place.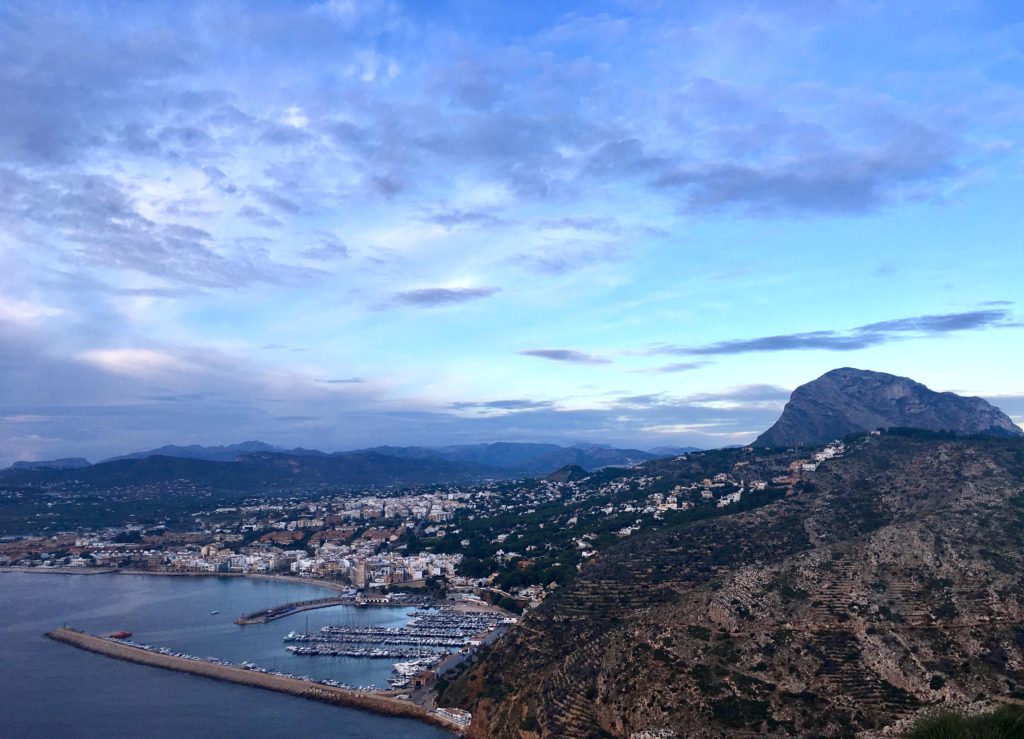 The truth is, traveling while working requires a high level of organization to find apartments, cafes with good wifi and people to connect with. That's why having spaces that support this lifestyle is key.
Coliving spaces offer all this under the same roof, taking away the hassle of having to organize all the travel-and-work logistics.
It doesn't hurt that most of them are also set in beautiful locations, with fast wifi and stylish workspaces, as well as local community managers to hook you up to what's happening in the neighborhood.
So if Spain has been on your bucket list of countries to live and work from, here is our curated selection of the most popular coliving and coworking spaces to be found here.
Bonus tip: use the codes below to get a 5% discount when staying at these coliving spaces!
Sun and Co., Jávea (Costa Blanca)
Obviously 🙂 Over the years, Sun and Co. has become one of the leading coliving spaces in Spain and in Europe. Set in the charming, historical city of Jávea, Sun and Co. has been around for over 4 years, welcoming over 300 location independent workers from all over the world. And while we are the very first coliving and coworking community on the whole Mediterranean coast, we certainly have some good company!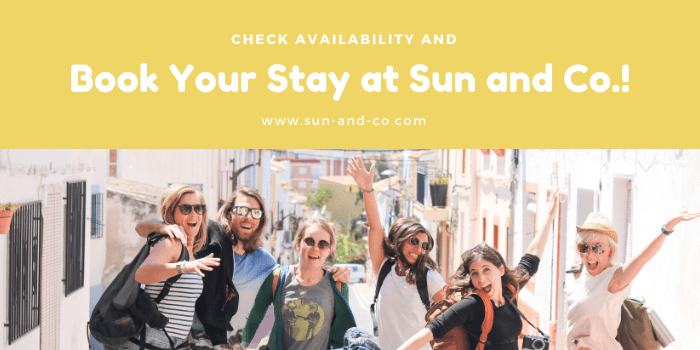 Nine Coliving, Tenerife (Canary Islands)
The story of Nine Coliving starts with Anne, a dutch girl that, after spending a year traveling the world on one of the Remote Year programs, decided to transform an old Canarian house into a place where digital nomads live, work, and meet. Surfing, hiking, local culture… for such a small island, it is incredible how much Tenerife has to offer. Go explore!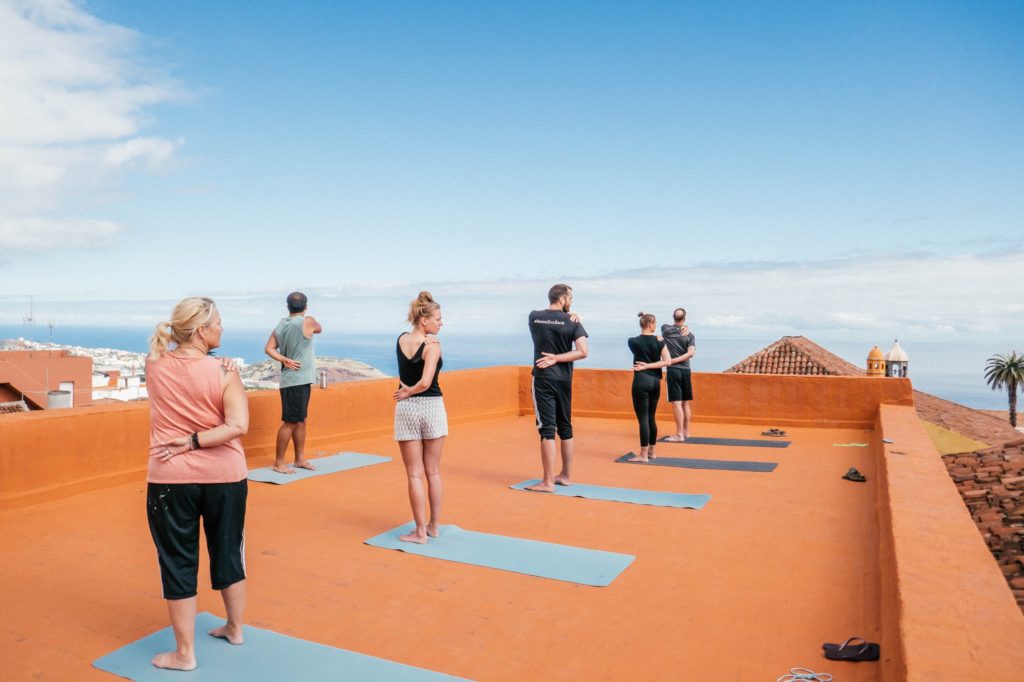 Sende, Senderiz (Northern Spain)
Traveling entrepreneurs and educators, María and Edo decided to build this cozy, rural coliving and coworking space located in a village of only 20 (that's right!) inhabitants, in the mountains of northern Spain. After six months of hard work, Sende was launched in July 2014. A year later, they had already hosted more than 500 persons from 20 countries. If you love mountains, hiking, and biking, this one of a kind place is your jam!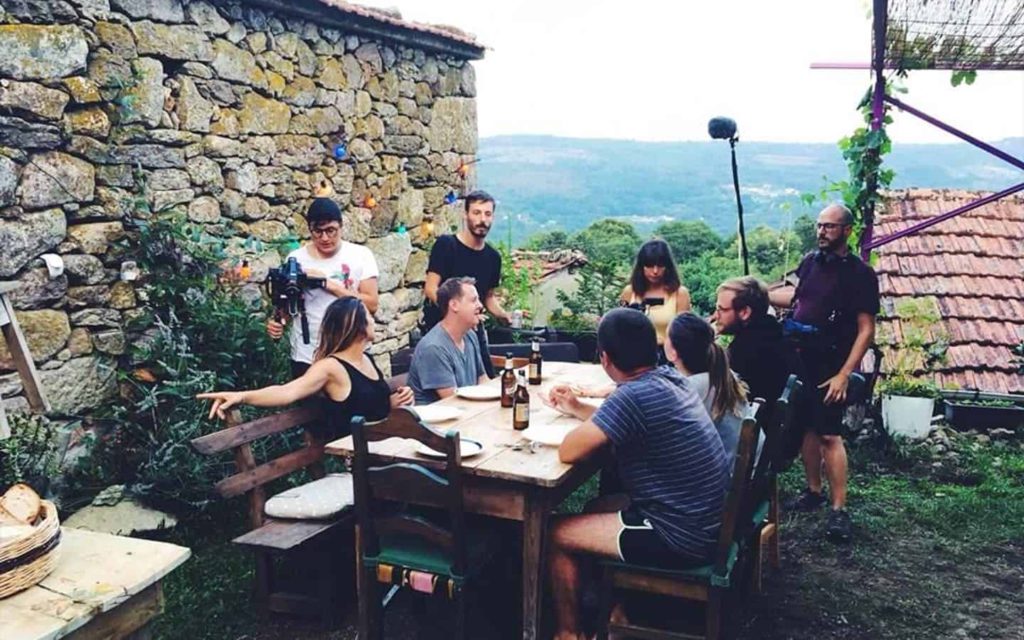 Anceu Coliving, Galicia (Northern Spain)
Anceu Coliving is an inspiring space for digital nomads, creatives, freelancers, and travelers that want to live sustainably, work remotely, and connect deeply with a global community in pristine Galician wilderness.
Opened in the summer of 2020, Anceu is a local family-owned coliving and coworking in a restored farmhouse in an idyllic village in Galicia in north-west Spain.
The building evokes the rustic country charm of a classic Spanish farmhouse cottage, with plenty of flexible workspace options to choose from and 300mbps fiber optic internet access from anywhere:
– Coworking Space
– Pool & Patio
– Lawn & Garden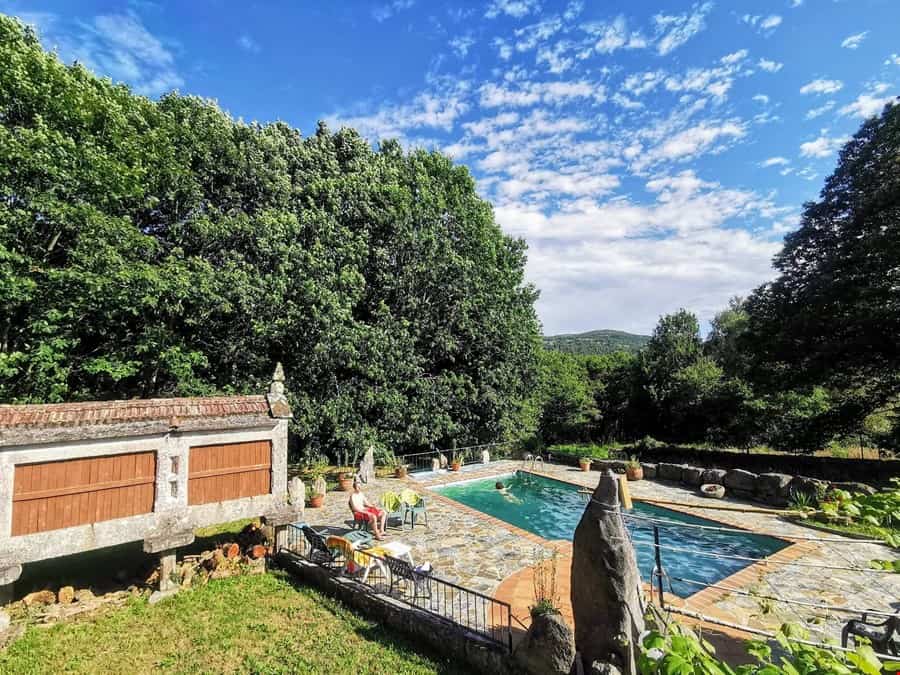 Best Coliving Spaces in Spain: Conclusion
If you've been reading this, congratulations! You are now ready to choose your next (or first) coliving experience wisely. Make sure to consider all the factors listed above to find the one that best fits you.
Coliving spaces are growing in popularity as the remote working / location-independent trend continues to rise. So much so that you should consider your coliving experience part of your actual career development.
That's why being deliberate with the one that you choose is crucial! And while you are advancing your career and personal growth, why not doing it in one of the most beautiful countries in the world?
If you decide to go to the Canary Islands or Galicia, you can use these 5% discount codes when you book your stay with them:
Although let's be honest, Sun and Co. is probably the best coliving space in Spain to try out if you're just starting your journey in the coliving world! 😉
See you soon!
---
If you've found these tips useful, join the Sun and Co. Community to hear more! Follow us on social media and subscribe to our amazing newsletter to see what's going on in Javea and in our house ☀️