Remote work is here to stay. As the world is getting used to social distancing, remote work predictions experts witnessed the future come true almost overnight.  Remote work provides the flexibility and autonomy employees desire from their jobs, but it can also present difficulties for those who may not have much experience working away from the office. If you find yourself newly working from home, keep reading to learn about 5 common remote work challenges and how to overcome them.
Remote Work Challenge #1: Loneliness
One of the main appeals of working from home is independence. You're able to work in an environment that is all your own. However, the gift of solitude can easily create problems for you if not handled properly. According to one study, loneliness is one of the top challenges experienced by remote employees. These feelings can come from a multitude of sources— whether it is from lack of connection with your coworkers, or from not spending enough time with your friends and family outside of work.
There are a few steps you can take to alleviate these feelings. For example, if you're spending a lot of time alone, you might want to set some time aside to hang out with your friends or family. Take the time to socialize with those who are willing to make time for you. Additionally, you can reach out to your coworkers to have virtual lunches or happy hours so that you can get to know them on a more personal level. The more you work social interactions into your weekly routine, the less lonely you will feel.
Read more on tackling loneliness while working from home in this post.
Remote Work Challenge #2: Communication
Another problem that can manifest itself for remote employees is a lack of efficient communication between teammates. Obstacles like differing schedules, long waits for feedback on tasks, and lack of collaboration tools make it even more difficult for you to share ideas with your coworkers.
One of the ways you can overcome these obstacles is to use the appropriate channels to communicate with your teammates. For example, if your team is made up of people who work different hours during the week, then it may be difficult to schedule virtual meetings that everyone can attend. In this case, you'll want to look for a video conferencing tool that integrates well with your calendars— allowing you to choose a time that works best for everyone.
Additionally, use a collaboration suite that allows you to simultaneously work on documents with your teammates. By utilizing software like this, you'll be able to complete tasks together in real-time without having to wait for feedback. As you begin to add more spaces where you can work with your coworkers at the same time as them, it will become less difficult to collaborate on tasks with them.
Remote Work Challenge #3: Distractions
Working from your home can also bring about distractions. Your family and household members may request more of your time or your phone may be too irresistible without anyone there to tell you to put it down. It can also be difficult to stay motivated if you're lying comfortably on your couch every day.
To combat these distractions, try setting "do not disturb" hours during your workday. Let everyone in your household know that you are not available during these hours, and explain that disturbing you might break your concentration. These rules should apply to yourself as well, meaning that you should refrain from using your phone, scrolling social media, or watching TV during your work hours. If staying off your phone proves to be too tough of a challenge, try using a focus app that gives you extrinsic rewards for focusing on your work. The more distance you place between yourself and the things that distract you, the easier it will be to direct all of your effort to your job.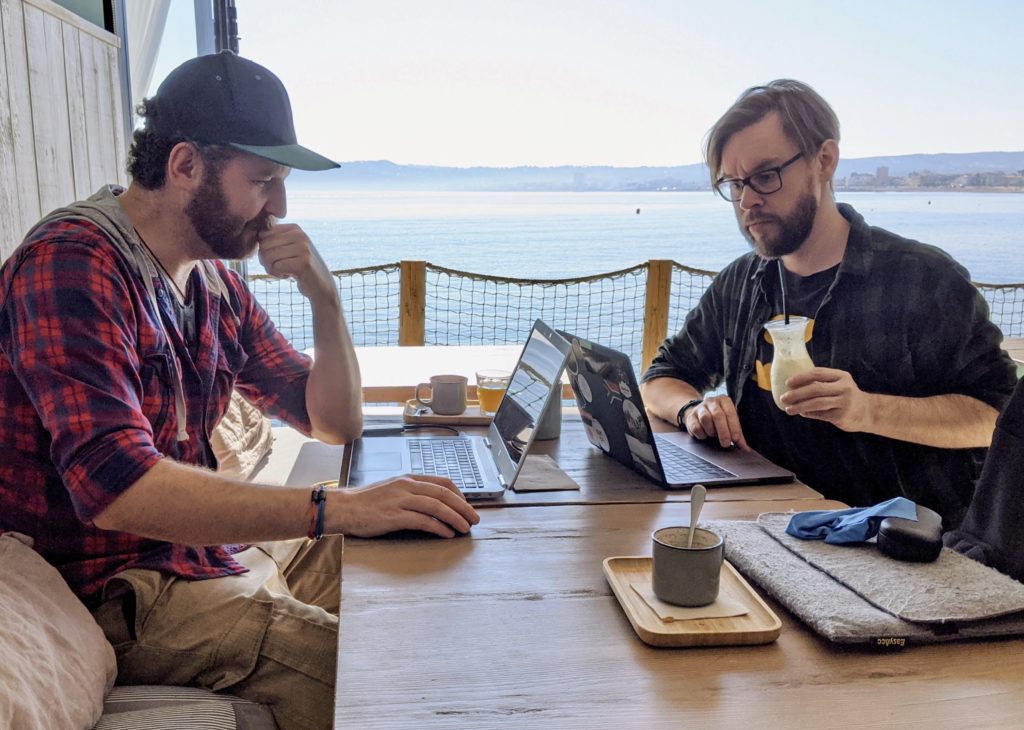 Remote Work Challenge #4: Overworking
While it's easy to assume that people are less productive when working from home, the opposite is actually true. Over 86 percent of remote workers find themselves working extra hard in order to prove to their bosses that they aren't slacking off, and end up working an additional 28 hours a week. Remote workers often find themselves skipping lunch breaks, not logging off at the end of the day, or committing to too many tasks as a way to overcompensate for being away from the office— which will ultimately lead to them feeling overworked and burnt out.
An easy way to combat this challenge is to set boundaries for yourself. Set an alarm for the end of your workday, and don't allow yourself to continue once it goes off. You can also plan your breaks for the day ahead of time, and hold yourself accountable to use that time to decompress. Additionally, try keeping areas in your house reserved for relaxation and other areas reserved for work. When you're finished with your workday, move to your comfort zone to signal to your brain that work time is over. If you truly want to be a productive remote employee, then it's crucial for you to create a work-life balance that gives you the chance to relieve some stress.
Remote Work Challenge #5: Task Management
Another way to prevent overworking is to manage your work tasks wisely. While this is easy in theory, many people working from home struggle with time management.
There are a few things you can do to help you organize your time efficiently. For starters, you should limit your commitments to those that you can realistically get done. When you do commit to tasks, begin your days doing your least favorite ones. These could be a large task that will take up a majority of your time or the mundane tasks that make your day feel long. By getting these responsibilities out of your way early in, you'll be able to use your energy on these tasks before you're tired from the day. You should also try to limit your commitments to those that you can manage.
You should also prioritize your tasks by their importance and their due dates. If you have trouble remembering what's due when, then you can utilize to-do list software to help you keep track of the tasks you still need to do and keep track of how far you've gotten in each task. Organization is the key to time management— allowing you to have a much easier time doing your job remotely. The more you practice this tip and the ones above, the more you'll enjoy your time working away from the office!
---
If you've found these tips useful, join the Sun and Co. Community to hear more! Follow us on social media and subscribe to our amazing newsletter to see what's going on in Javea and in our house ☀️