If there's anything that we learned from this period in isolation is that, with a bit of planning ahead, almost everyone can work from home. While most coliving and coworking spaces like Sun and Co. had to close during the COVID-19 outbreak, the majority of people had to adapt to work from home on a constant basis.
This represented a small revolution, not only for those that had never worked from home before the pandemic, but also for the most experienced remote workers, who were used to work remotely while travelling or working from coworking and/or coliving spaces.
Such spaces usually make the lives of remote workers incredibly easier, by providing reliable infrastructure, the right work environment for maximum productivity, and a community of like-minded people to discuss and share ideas. At Sun and Co., for example, when you come to our coliving all you need to worry about is buying a flight ticket to Javea, bringing your laptop and getting to work!
Unfortunately, Sun and Co. will remain close for the foreseeable future. But we still want to help all the remote workers out there! In this post we'll be sharing our best tips and ideas on how to set up a home office that is comfortable, inspiring and productive.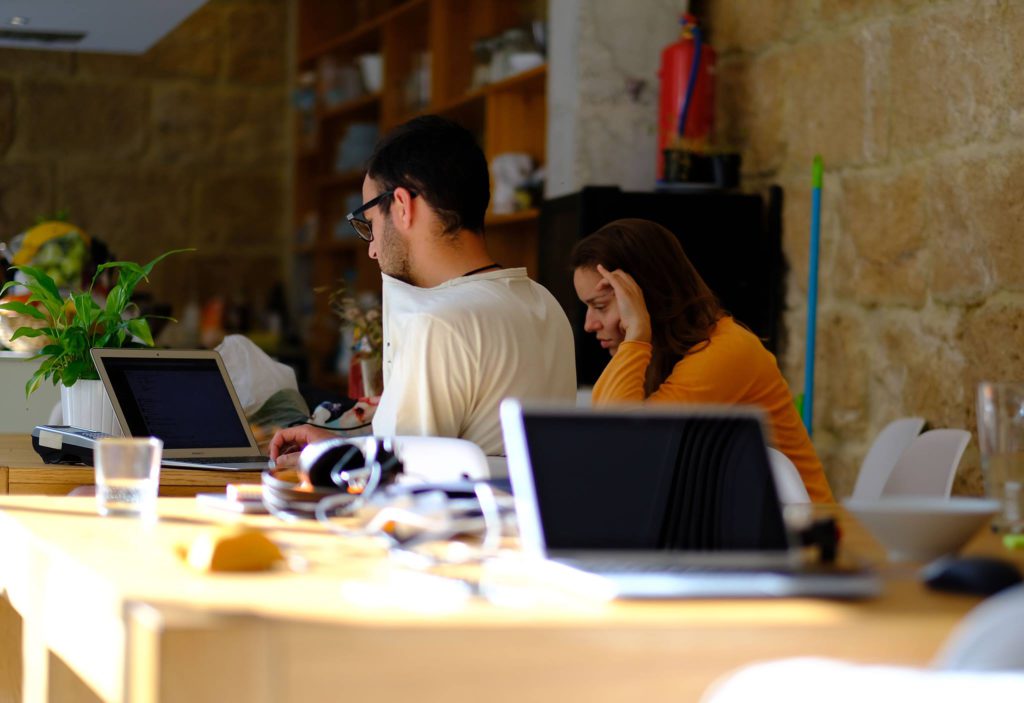 By now you've probably heard over and over again that remote work is here to stay, regardless of how much longer it will take for this pandemic to be over. Many companies pulled off relatively seamless transitions to operating fully remotely during the pandemic; some companies, like Twitter, even allowed their employees to work from home indefinitely. And workers generally tend to like working remotely. As it turned out, nobody likes long commutes to work or being stuck in rush hour traffic! However, like everything in life, remote work comes with pros and cons too.
It's only natural that, after the initial enthusiasm, the longest people are forced to work from home the more they discover the ugly setbacks. These include feeling lonely, experiencing the so-called 'Zoom fatigue' from too many video calls, or dealing with a great deal of stress and exhaustion if you are a parent working from home with small children.
While it's true that working parents are the ones that are struggling the most from long-term consequences of staying at home, the good news is that with the right adjustments all of us can at least control the environment where we are working these days, making sure it's as optimised as possible.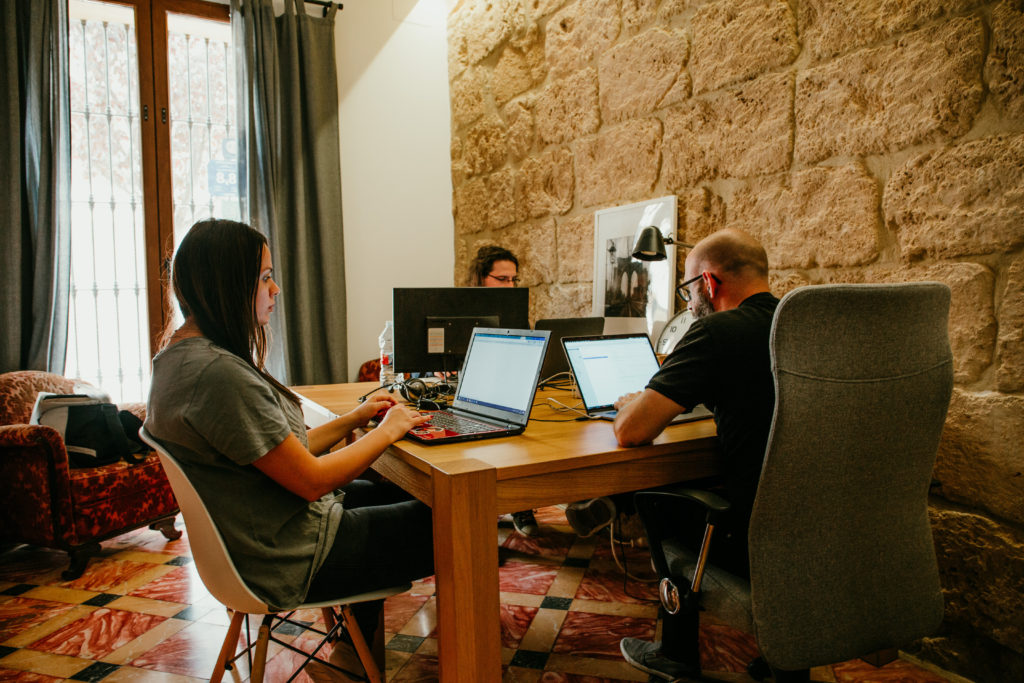 Setting Up A Home Office For Remote Work
When it comes to setting up a home office for making your work (and life) easier, there are three main areas you need to consider.
Tools and Infrastructure: the essentials are obviously a PC/laptop, a solid wifi connection, and the virtual software stack you need to perform your work.
Skills and productivity: doing your best work from anywhere requires developing a strong set of skills that will enable you to be productive while working remotely in the long term.
Well-being: last but not least, there are a few tricks you can apply to set up your home office in a way that encourages balance and happiness. After all, working from home means you'll need to set clear boundaries and rules to separate life from work, and protect yourself from burning out.
Ultimately, a home office should be a place where you feel inspired, focused, and motivated. When you're new to working from home for such extended periods of time it can be easy to get lost in your work and neglect your workspace. But spending the extra hours and money on making it comfortable will make a huge difference to your productivity, creativity and most importantly, your happiness.
Home Office Setup Ideas
The key is to recreate the separation between work and private life, which is obviously easier when you work from an office or a coworking space. Leaving "home mode" and entering "work mode" can be tricky if you never physically leave your house. While working from bed or lounging on the couch while checking emails might feel like a treat occasionally, in the long run you should really dedicate space away from where you watch TV, sleep, and eat to get work done. This way, you're free from distractions and temptations and you can set up and design your space however you want (and without potentially bothering your roommates or family members).
You'd be surprised to find out that a handful of small changes can completely revolutionise your remote working experience, no matter how big – or small – your house is. Whether you go get yourself some productivity-boosting tools, or completely revamp the look of your space, choosing to optimised your home office is the undervalued secret to happy and productive remote working.
How To Set Up A Home Office Checklist
Find The Best Location
Set Up Your Desk Right
Don't Underestimate The Importance Of A Good Chair
Light It Up
Adjust Your Monitor
Tips On Keyboard And Mouse
Tame Those Wires
Maximise Your Storage Options
Invest In A Good Quality Headset
Decorate!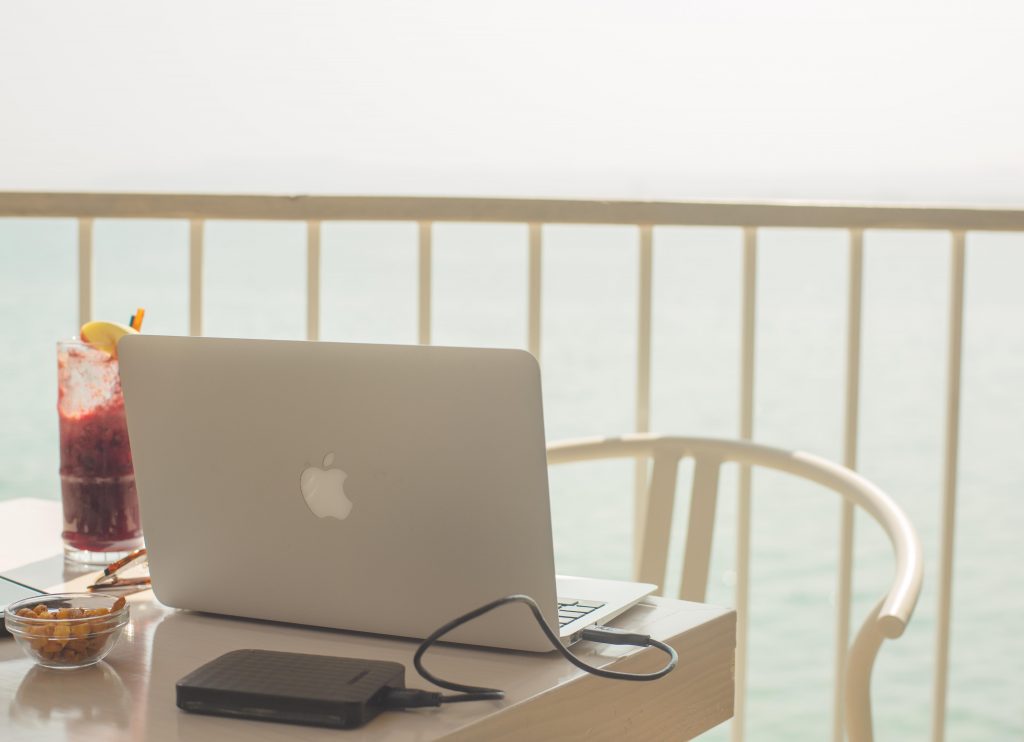 Find The Best Location
In an ideal world, your house would have a spare room such as an empty bedroom, the basement or even a garage, ready to be converted into a dedicated office space. However, we all know the world is far from being ideal, so when space is tight you have to think creatively about your office space.
As a rule of thumbs, avoid setting up your office in the lounge/living area if that's where the people in your home congregate. Instead, check out unused corners in larger rooms, large closets, or even under the stairs. You can then consider adding a privacy divider, such as those that sit on the floor, or you could hang a curtain from the ceiling or on a rod.
Finally, while choosing the space think about the Wi-Fi too. Test your router to make sure the connection doesn't just reach the place where you intend to work, but it's also strong. You may need to invest in a Wi-Fi extender or even Wi-Fi mesh system to make sure you can work on the patio and stay connected. For jobs where you may need to share large files, it's well worth considering a symmetrical connection, which provides upload speeds that equal the download speed (like the one we have at Sun and Co., 300 Mbps up/down).
Set Up Your Desk Right
Working at home means spending a lot of time at your desk. So naturally, the first thing you need to invest in is a desk that contributes to your productivity by helping you stay comfortable all day.
Sitting all day can cause both aches and pains, or even long-term health issues. The solution? Consider getting a standing desk that can be raised and lowered instead of a traditional "fixed" desk. Your back, hips, and overall health will thank you!
Don't Underestimate The Importance Of A Good Chair
It can be tempting to just grab a chair from the dining area when you're working from home. But sitting at a desk for long hours without proper support for your back is a fast track to posture problems. So if a standing desk is not for you, make sure to at least invest in an ergonomic office chair that supports your posture, weight, and lumbar while sitting. The chair's height should keep your eye level with your screen when your back is straight.
Light It Up
Working in dimly lit environments, where screens are the main light source, will end up straining your eyes. Over time, eye strain can lead to fatigue, headaches and blurred vision, making you less productive.
If you can, try to set up your home office where you get as much natural light as possible. Studies have shown that exposure to natural light during the day has positive effects on our mental and physical health. If nothing else, using natural light to light up your office is better for the environment!
When natural light isn't possible, or you just need more light, invest in the right kinds of lamps. While overhead lighting can create a glare on your screen or desk, indirect lighting such as a simple soft light desk lamp may be a better solution. Indirect lights have lamp shades or diffusers that soften the light, creating less glare and making it easier on your eyes (but make sure the light isn't too diffused).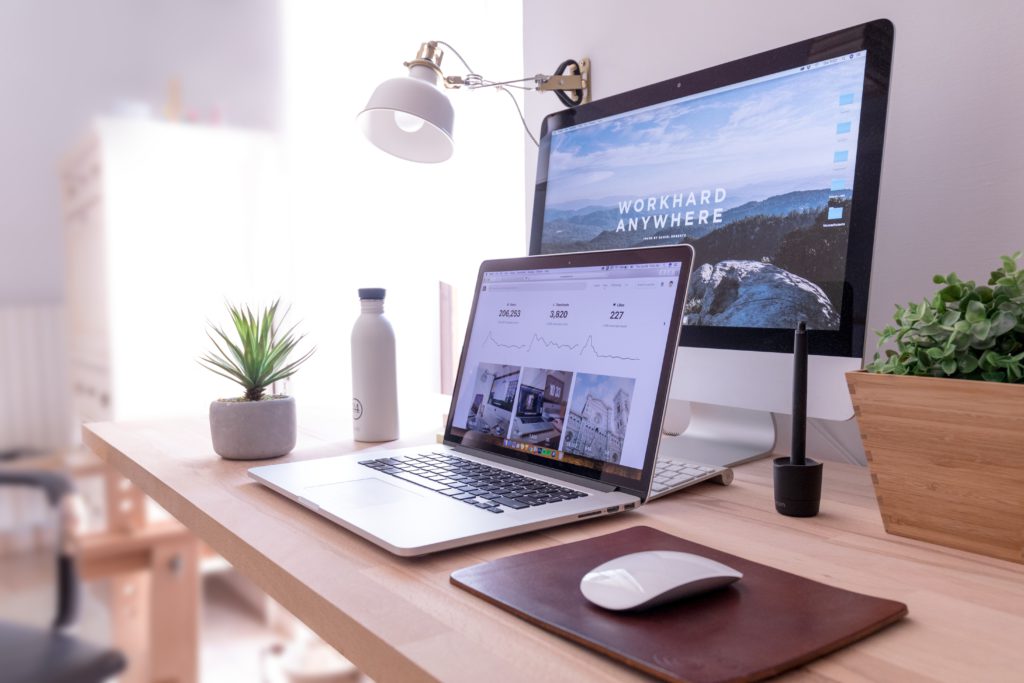 Adjust Your Monitor
After choosing the right desk, chair, and lightning, you can help your neck and eyes even further by making sure you've got your monitor in the "perfect" spot. Most monitors are adjustable, but when that's not enough you may need to invest in a screen riser or a laptop stand to get the right adjustment. Some books or an old box can also do the trick!
These are some general tips to help you get it right:
Your spine should always be in a neutral position.
The top of the screen should be at, or slightly below, eye level.
Place the monitor at least 20 inches from your eyes, farther away if you've got a large monitor.
Your eyes should look slightly down when looking at the middle of the screen to help keep your neck in proper alignment.
Finally, especially if you're guilty of always having lots of tabs open on your computer, consider investing in an external monitor. Make sure to pick one with a clear, readable screen to prevent headaches, and a bright display to cut down on glare.
Tips On Keyboard And Mouse
No ergonomic home office setup would be complete without a good Bluetooth keyboard + mouse combo that can be set to minimise wrist and hand strain. The last thing you want is to end up with Carpal Tunnel Syndrome!
Tame Those Wires
Cables and wires can get in the way and easily crammed up your office space, so be careful to tuck them away safely behind your desk and/or around the walls. Invest in some kind of cord management system. This can be as simple as a twist tie, or something a little more elegant, like cable organizers that attach to your desk and keeps your chargers in place. Also, when your office is in a public spot, think about where the outlets are when you're setting up. If you have to run power strips and extension cords across the floor, make sure to do it safely, like using cord covers.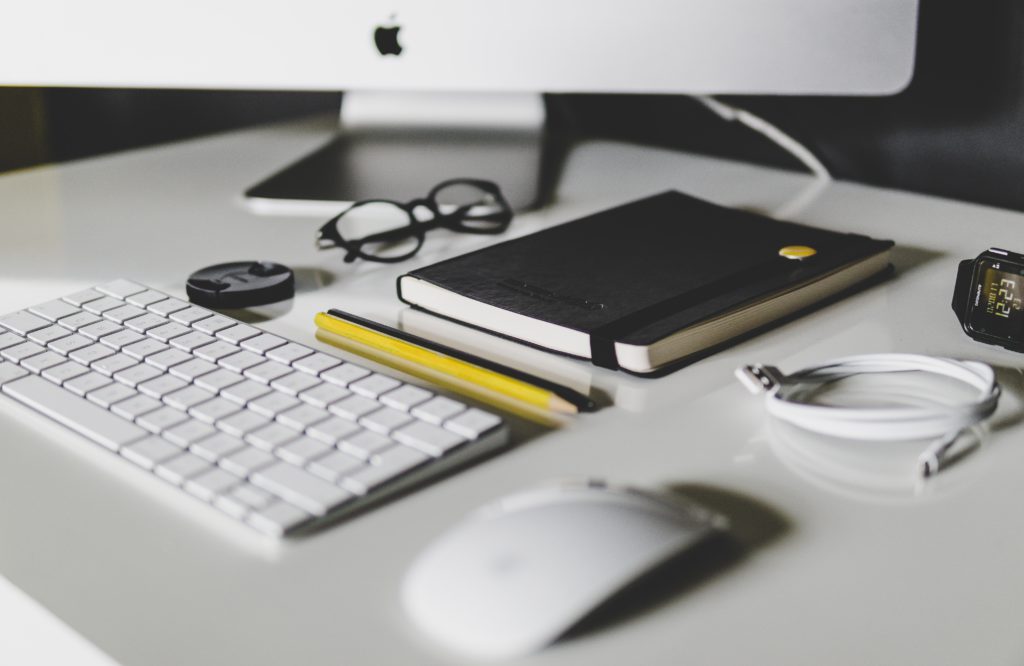 Maximise Your Storage Options
Working from home doesn't mean you won't need proper office supplies, like stationery and even paper files to maintain. One of the problems is that home offices tend to be tiny, even when your office is a dedicated room. One solution when setting up your home office in a small place is to think vertically to maximize your storage options. A hutch, tall bookcases, or even floating shelves can give you more storage without taking up precious floor space. Finally, consider a lockable cupboard or filing cabinet if you have to store sensitive documents that you can't leave lying around the office, especially if it's in a shared space.
Good Quality Headset
Don't underestimate this part of your home office setup when you plan to talk a lot to colleagues and clients online. Relying on a mic and speaker alone can result in poor sound quality and a lot of annoying echoes. Head-cancelling headphones can also be a good investment, especially if you share the space with other people – or kids!
Decorate!
Once you have all the equipment in place, it's time to make the place really yours. Besides being an efficient space to get things done, your home office should be a representation of who you are. Surround yourself with whatever it is that inspires you to work and makes you want to be in there.
Need some decor idea? Get a plant! Plants brighten up and add color to otherwise sterile indoor spaces, making them the perfect background for video calls, too. Not only that. Studies show that being around plants is good for your health and can increase productivity.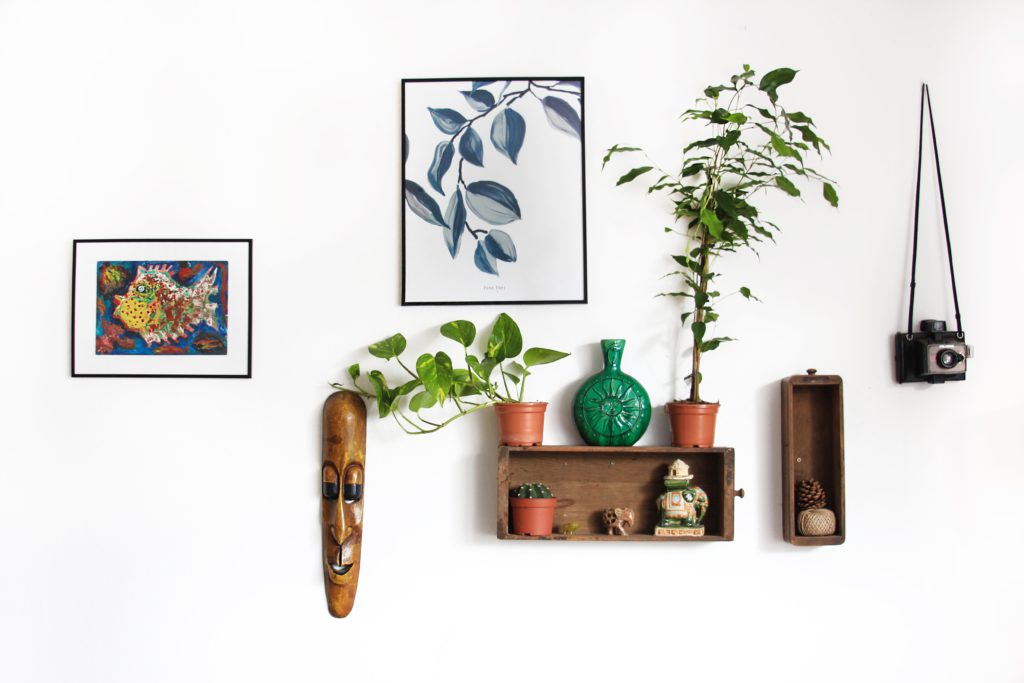 A Word On Security
When you are working from home, you won't benefit from the same cyber and network security systems that you would find working from a company's office. Hence, it's important to be aware of a few cybersecurity risks to protect yourself while working from home. For more tips have a look at this post: 'Cybersecurity Tips For Remote Workers'.
Set Up A VPN Remote Access
If you're working for a company, you'll need to be able to access corporate files, email, databases etc. To do this securely, your employer will have to set up a Virtual Private Network (VPN) to allow a safe link from the corporate network to your computer.
Password Protect It
At work, you're entrusted with all kinds of information and you need to be mindful of keeping all this data safe. If you are connecting to your office via VPN, strong passwords that are kept private become even more significant, since anyone gaining access to your device would have access to not only your files, but those of your company, too. In addition to good password hygiene, setting up two-step verification is a good way to protect accounts.
Back Up
To mitigate the risk of data loss, you'll need to ensure that it is backed up. Whilst cloud storage is certainly a convenient way of doing this for home workers, it's really important that you find out how and where your cloud provider stores information. Many make the mistake of thinking that data can be handed to a cloud provider and forgotten about, but it is you that ultimately retains responsibility for it.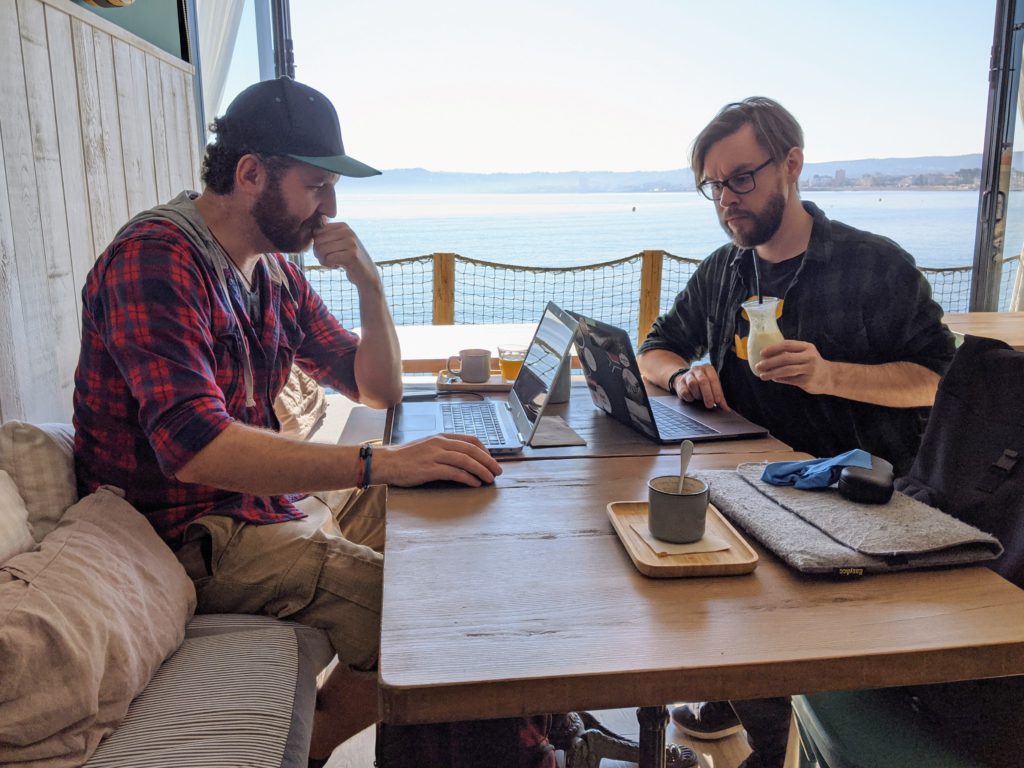 Staying Healthy While Working From Home
Home offices come in many setups, sizes, and budgets to fit different needs. But creating any kind of dedicated environment for remote work will help you to achieve remote work-life balance and a distraction-free environment when working from home.
Once your home office is set up for success, don't forget to set some rules and boundaries for yourself, so that you don't end up working 24/7 just because you can! Set regular working hours, turned off notifications, take regular breaks for lunch and exercise… keeping healthy both physically and mentally is even more important when working from home.
For more on this topic, check out these articles: