At Sun and Co. we are lucky to be based in what has been voted one of the best countries to travel to, especially for solo travellers: Spain. So whether you are an expat in Spain, eager to meet locals and make friends abroad; or a digital nomad looking to live and work in Spain for some time; or a remote worker looking for the best winter sun destinations in Europe, this article is for you! 
We will be sharing our best tips for making the most out of your time working and/or travelling in Spain, finding the best places to work from, meeting like-minded people and discovering some of the warmest places in Europe to escape winter. With a special mention to what we consider the best place in Spain: our home in Costa Blanca, Jávea (of course!).
Visit Spain to… Escape Winter
When thinking of travelling to Spain, most people immediately think of warm weather and sunshine all year around. But the reality is, places like Madrid and northern Spain can get very cold during the European winter. Barcelona or the Canary Islands are the most common choices when it comes to winter sun destinations in Europe, but Spain offers many more, less well-known options.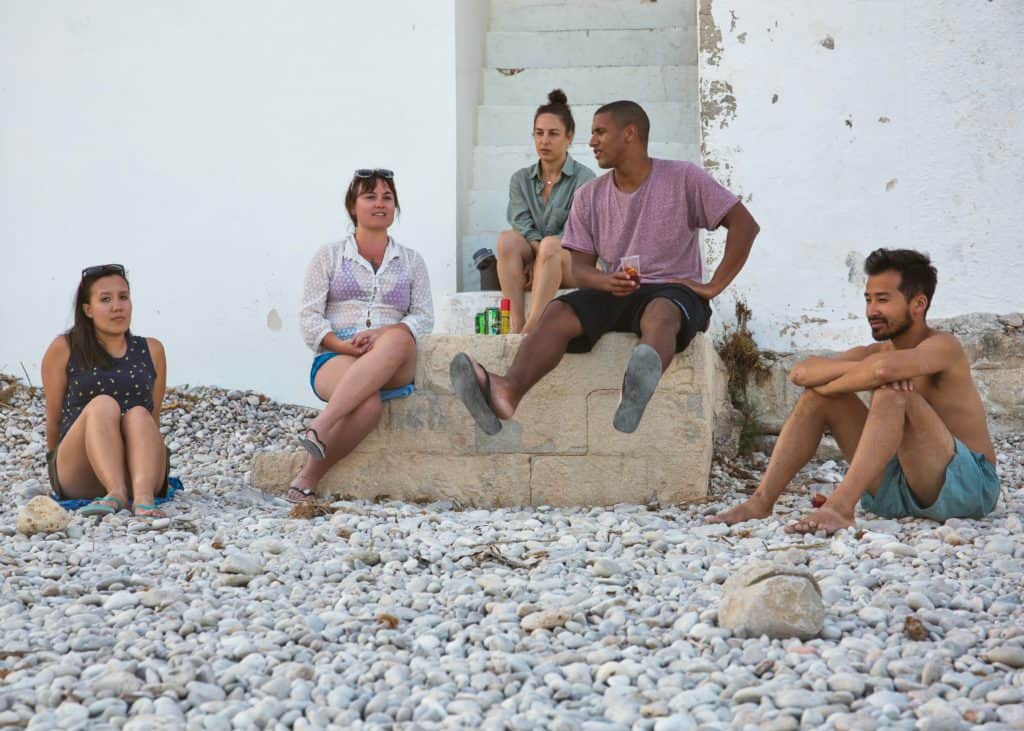 For example, did you know that the Costa Blanca, where Sun and Co. is located on the southeastern coast of Spain, is one of the warmest places in Europe during winter? And yet it remains one of the best kept secrets when it comes to travel destinations in Spain.
If you are thinking of your next place to visit in Europe for some winter sun, but you are not so keen on spending too much time in big cities like Barcelona, here are some of the best places to visit and things to do in Costa Blanca. It might surprise you how easy it is to reach so many places, while being based at Sun and Co.!
Valencia
A charming old city originally founded as a Roman colony, Valencia is Spain's third-largest urban centre and less than 2 hours drive from Jávea (or you can catch a bus from the main bus station in Jávea). The port city of Valencia lies on Spain's southeastern coast, where the Turia River meets the Mediterranean Sea. It's known for its City of Arts and Sciences, with futuristic structures including a planetarium, an oceanarium and an interactive museum. Valencia also has several beaches, including some within nearby Albufera National Park, a wetlands reserve with a lake and walking trails.

Alicante
Capital of the Alicante province, the city has an enchanting atmosphere that blends rich history with animated beach life. Inhabited for over 7,000 years, the city draws visitors year-round to see its many historical structures, which represent the influences of several different cultures. Renowned for its warm Mediterranean weather and golden shores, Alicante is a popular vacation destination for sun-seekers, golfers, and yacht enthusiasts, as well as travellers who simply enjoy the dramatic coastline and beautiful countryside.

Denia
Just a 20 minutes drive from Jávea, Denia is a gorgeous little town of around 30,000 inhabitants, with a bustling port and nightlife. Here's what a half day in Denia might look like: take a boat tour from Javea to Denia to experience the sunset, then wander around the city, stop for an aperitiv at Els Magazinos, and dinner by one of the many restaurants by the port. If you're more into tapas and drinks, head to Calle de la Mar and try all the little bars and clubs, with music until late.
Pro-tip: from Denia you can easily catch a ferry to the Balearic islands, and be in Ibiza and/or Formentera in just a couple of hours. Highly recommended!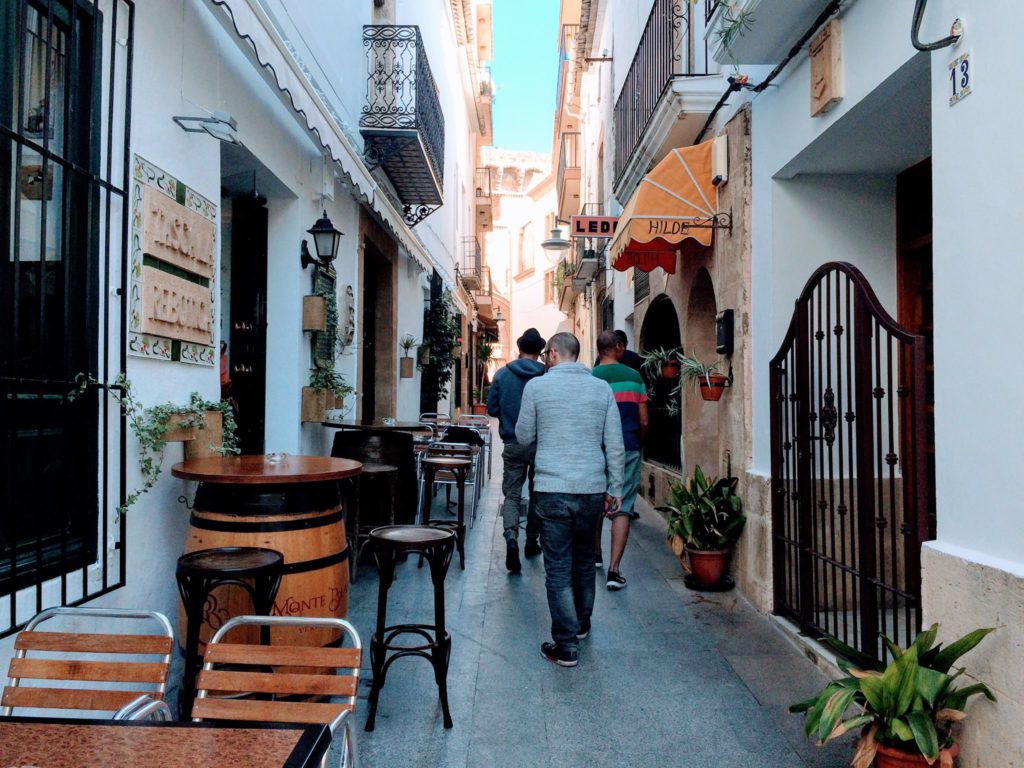 Jávea
A town by the shore known for its coastal blue waters, Jávea – or Xàbia,in its original valencian name – is where our home is! It is said to be a perfect example of a Mediterranean destination, as it has a wide array of beaches and numerous adventures to choose from. Jávea is conveniently located between Valencia and Alicante airports, from where you can take a bus, a shuttle or a BlaBla Car and be at Sun and Co. in a couple of hours. Hence, Jávea is also a great place to use as a base to go and explore the surroundings. All you need is a mode of transportation to get around (there are a lot of rental car places we can recommend) – and a room at Sun and Co.!

Visit Spain to… Work Remotely
When you're looking for your next destination, the town that you're headed to is just as important as where you'll be staying. Ocean or mountains? City or countryside? Sunshine or rain? The options are infinite and very much based on your personal preferences. But if you are an entrepreneur, remote worker, digital nomad or an expat, there are even more criteria to add to the mix: how to meet like-minded people, how to find places to work from, how to build a network of people to collaborate with and gain inspiration from while travelling and living in a new place. 
The truth is, travelling while working requires a high level of organisation to find apartments, cafes with good wifi and people to connect with. That's why having spaces that support this lifestyle is key: coliving spaces offer all this under the same roof, taking away the hassle of having to organise all the travel-and-work logistics. It doesn't hurt that most of them are also set in beautiful locations, with fast wifi and stylish workspaces, as well as local community managers to hook you up to what's happening in the neighbourhood.  

The 4 Best Coliving Spaces in Spain
One of the best countries to travel to is certainly Spain. And that doesn't come as a surprise! Sunshine all year-round, great food, rich culture and friendly people… what's not to like? No wonder Spain is particularly popular when it comes to remote workers or digital nomads too. In fact, some of the best coliving and coworking spaces in Europe are to be found here. So if Spain has been on your bucket list of countries to live and work from, here is our curated selection of the most popular coliving and coworking spaces to be found here.
Bonus tip: use the codes below to get a 5% discount when staying at these coliving spaces!
Sun and Co., Jávea (Costa Blanca)
Obviously 🙂 Over the years, Sun and Co. has become one of the leading coliving spaces in Spain and in Europe. Set in the charming, historical city of Jávea, Sun and Co. has been around for over 4 years, welcoming over 300 location independent workers from all over the world. And while we are the very first coliving and coworking community in the whole Mediterranean Coast, we certainly have some good company! 

ReStation, Las Palmas (Gran Canaria)
ReStation first opened its' doors in October 2016. It all started with Maria's vision of creating a business hub under the sun and an amazing community of like-minded people. Since then, the community multiplied and so did the spaces. By 2018 they're running a coworking space and 3 coliving houses, each one with its' vibe. Las Palmas is also a great spot for fellow digital nomads and remote workers, here's why.

Nine Coliving, Tenerife (Canary Islands)
The story of Nine Coliving starts with Anne, a dutch girl that, after spending a year travelling the world on one of the Remote Year programs, decided to transform an old Canarian house into a place where digital nomads live, work and meet. Surfing, hiking, local culture… for such small island, it is incredible how much Tenerife has to offer. Go explore! 

Sende, Senderiz (Northern Spain) 
Travelling entrepreneurs and educators, María and Edo decided to build this cozy, rural coliving and coworking space located in a village of only 20 (that's right!) inhabitants, in the mountains of northern Spain. After six months of hard work, Sende was launched in July 2014. A year later, they had already hosted more than 500 persons from 20 countries. If you love mountains, hiking and biking, this one of a kind place is your jam! 
Are you ready to visit Spain and these beautiful coliving spaces? Use these codes when booking at ReStation, Nine and/or Sende to get a 5% discount on your total price: ReStation: 5SUN ///Nine Coliving: 5REFERRALSUNCO /// Sende: SENDESUN5
Visit Spain to… Discover Jávea And Disconnect
Originally from New York, Sienna is one of the amazing hosts at Sun and Co. She has been living in Spain as a remote worker for many years, but when she first moved to Madrid and then Murcia, she had never heard of Jávea before. However, she says that when she visited Sun and Co. as a guest for the first time in 2017, Jávea quickly became her new favorite city and personal oasis to escape from everyday life. So much so, she decided to move here indefinitely! Here's why…
Written by Sienna Brown

Jávea = Sun and Co.
As an entrepreneur and expat, it's important to find like-minded people to collaborate with and gain inspiration from. And that's why I consider Sun and Co. a safe and magical space not only to work with others, but to be constantly surrounded and inspired by those who are going after their dreams with reckless abandon. An added bonus is, even after you leave Sun and Co, you will always have the family you gain there!
Slow Life
Life in Spain is already much slower than what it is in the US, but what I noticed in Jávea is a different pace of life that is admirable. Life in Jávea is a beautiful reminder of the importance of living each day as it comes. It is sustainable, slow and there is a focus of living well, not rushed. Whether you're going for a walk through the old town, heading to the beach or sitting in the patio at Sun and Co, you'll feel refreshed, inspired and grateful for the life you live.
Small Businesses
Another thing I love about Jávea is the plethora of small businesses that you can find throughout the town. Many of the places are small family-run shops that have been around for a while and are a meaningful part of the community. There is something satisfying to being able to support locals instead of spending money on big businesses.
Plenty Of Ways To Relax And Disconnect
If you're looking for what to do to relax and disconnect while in Jávea, keep reading to hear about Sienna's favourite things to do.
Indulge at La Siesta or The Beach House
La Siesta Jávea is one of my favorite places in town because you're able to have an island-like experience on the coast of Spain. The restaurant is right on the water and it has both great food and an amazing ambiance. So whether you head there with a group of friends or by yourself, it's the perfect place to sit back, relax and enjoy the views.
The Beach House is another one of my favourite spots. With great coffee and good wifi, it's the perfect place to enjoy a morning of deep work by the sea, followed by a chilled afternoon and – why not – an aperitivo on the roof terrace.
Practice Yoga & Get Pampered
If you're looking for somewhere to practice yoga and enjoy a variety of massages and beauty treatments, you'll find plenty of spaces in Jávea. Our guests' favourite is definitely LibeluYoga, which is also a 5 minutes walk from Sun and Co. 
Watch The Sunset From a Lighthouse
In Jávea you will find the perfect balance of mountain and sea, which means beautiful hikes with breathtaking views. I recommend taking an evening to hike up to Faro Cabo San Antonio to watch the sunset. The hike can take anywhere from 1 to 3 hours, but it's totally worth it!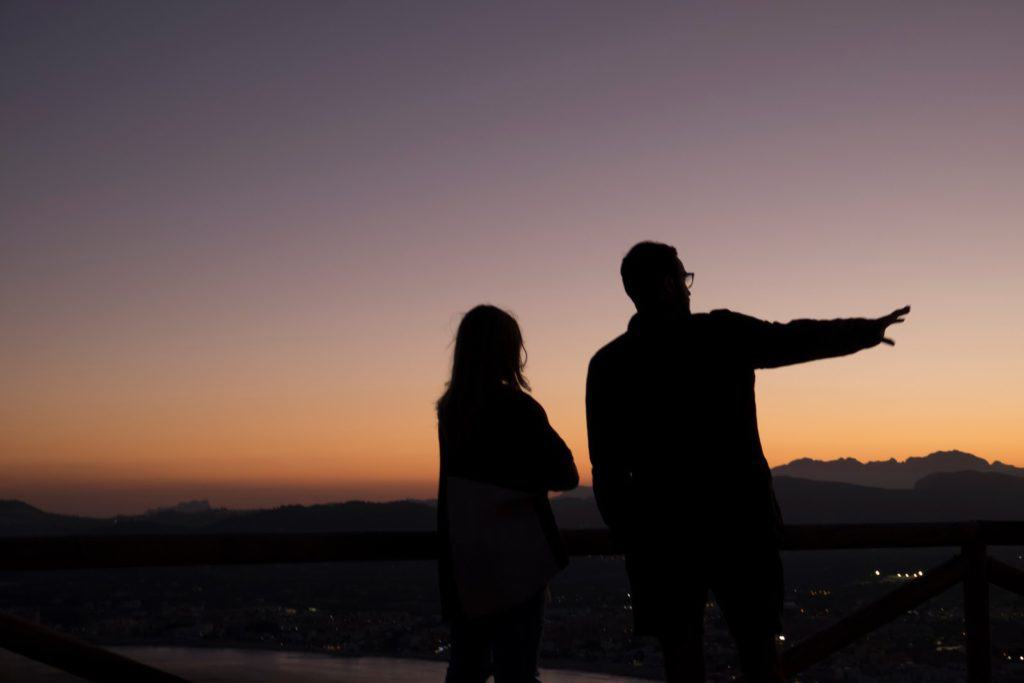 Sienna works at Sun and Co., but is also the founder of Las Morenas de España, a digital platform and community that provides resources, knowledge and cultivates connections for expats in Spain and worldwide. She is always on a mission to inspire others to live their best life and is constantly focusing on creating space for self-care as an entrepreneur. When she isn't drinking tea and checking off her to-do list, you can find her on the 'gram @siempregirando, where she is always capturing the beauty through her travels and everyday life!