This month, our #MeetTheColivers post is a bit different. Sun and Co. has been closed since the end of March 2020, when the state of emergency was declared in Spain. A few days before lockdown started, our friend Théo had just arrived in Jávea for the second time to spend a month coliving at Sun and Co. Little did he know that he would end up spending three months quarantined in Jávea (sadly, not coliving with us, but in a rented apartment by himself, as per Government's directions). Let's get to know Théo better and find out how he became a digital nomad!
Théo is the CTO of Multis.co, a banking solution for companies holding crypto-currencies. He was born in a small town in the French Alps, 30+ years ago. After living in Madrid, Paris and London, he's now a full-time minimalist nomad, always looking for the next best place in the sun!
How did you become a digital nomad/location independent?
Back in September 2014, I was in the process of moving from Paris to London. I decided to take a break and spent two weeks in Sofia, exploring a new city while working on a personal project. It was great! I enjoyed that first taste of 'working while travelling' lifestyle more than I had anticipated. However, I didn't change my plans to move to London to get a full-time job there. I really wanted to live in London, mainly to be able to wear Christmas jumpers the entire month of December without being judged! 🙂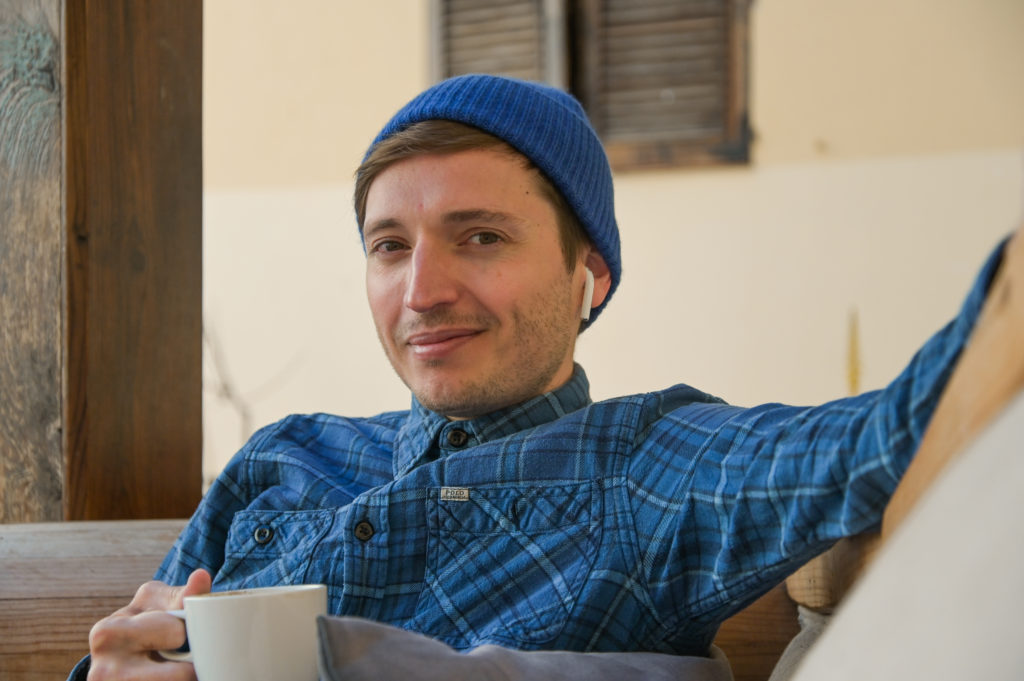 In 2014, the tech-nomad movement was becoming popular, but it took me 5 years to make it a reality for myself. I started being a part-time nomad in 2018, then in 2019 I realised I had no reasons to remain in London or Paris. So I thought I would give this "full-time nomad" thing a try! It might sound silly, but one of the main reasons for me was actually the weather. Good weather makes me happy, and that's not something London or Paris are famous for.
I had also been attracted to minimalism as a way to live a more deliberate life for quite a while, so I dove straight into it when I started to travel full-time. Today, all I own fits into a backpack and a 15-kilo suitcase! Here's a list of all my belongings if you are extra curious. When I travel, I stay in coliving spaces or at my parents' house in the mountains, which is also great to spend quality family time.
What are the challenges in this process and how do you handle them?
I feel super lucky that I can work on my own startup while living this lifestyle, but I realised it's not for everyone. The biggest challenge was finding a way to make it work for my co-founder, who lives in Paris and is not a nomad. We agreed on meeting in person for a week every month. That means I have to stay not too far from Paris, and obviously on European timezones for our daily catch-ups. That has worked for me so far. I am definitely a slow traveller, so I tend to stay at least one month wherever I go anyway.
What's been your favourite part about coliving/Jávea/Sun and Co.?
Little did I know when I searched for "coliving in Spain" that Sun and Co. would turn out to be so good! Plus Jávea is exactly what I was looking for: a small and sunny city, with super friendly and smart people working and enjoying a more deliberate life. I actually wrote some thoughts about my experience here.
What I love about small cities like Jávea is that you can just walk everywhere, and even get to know the locals! When you are at Sun and Co. for example, if you feel like having a break you just need to put on your hiking shoes and in 20 minutes you can enjoy a spectacular sunset (or sunrise) from la Ermita Santa Lucia! What else one could want?!
If you had one piece of advice to give to someone who is thinking about being location independent, what would it be?
Think about the things that make you happy. If they match what this nomad life offers, then you should definitely give it a try. Of course, I'm fully aware that it's not always possible to leave everything behind and change your life from one day to the other, especially if you're not in a good financial situation (like me in 2017). But most of the time it's more about inertia than possibilities. This might sound quite cliché, but I like Marie Kondo's famous mantra: "Does this <insert: job, city, activity, relationship etc.> spark joy?"
If the answer is yes, then do it!