Entrepreneur and founder of the 'Digital Nomad Girls' community, Jennifer Lachs is nothing but positive energy! We had the pleasure to host Jennifer and her community of remote workers and female entrepreneurs three times already at Sun and Co.!
We sat down with Jennifer to talk about how she got the inspiration to start her business, the joys and challenges of life on the road, and how her view of 'digital nomadism' has changed with time.
Q: Without saying anything about work, tell us a little bit about who you are and what you value.
I'm a bit of a contradiction actually. In a way, I'm a free spirit, but I also have a very analytical, scientific mind. I'm an adventurer, but also a chicken. I love backpacking, exploring all corners of the world but am happiest in Disneyland.
I value friendship and connection, freedom of choice, freedom to explore and the freedom to learn new skills and reinvent myself.
I love food and think it's one of the greatest pleasures in life to discover new dishes from around the world. My favourite dishes are ceviche, soup dumplings and laksa soup but I love everything to do with noodles or dumplings.
Q: So, what do you do that allows you to be location independent?
It's a long story, but now I run my own business called Digital Nomad Girls. It's a community that brings together location independent women from around the world. I've run retreats and also have a membership site 'The DNG Inner Circle', a virtual coworking community that travels with you.
In the past, I was a chemist and then became a freelancer after backpacking and gallivanting around the world for nearly 2 years.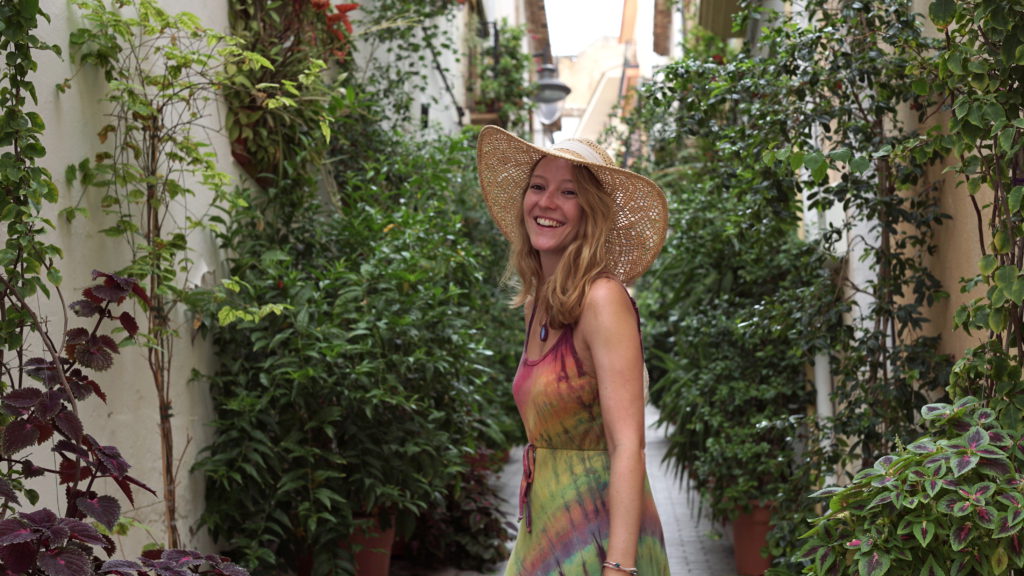 Q: What inspired you to start Digital Nomad Girls? Did it come from a lack of representation or more of a longing to create community?
To be honest, a bit of both. After travelling for a good few years I was really missing having close girlfriends. And at the same time, I noticed I was often the only girl at coworking spaces or digital nomad events. The online business world can also be quite loud and a bit overwhelming for women I think. So I had the idea to start a Facebook group to meet other girls who were trying to do the same thing as me. And it seemed there was a big need for it at the time.
Q: How would you say that working remotely has impacted your life?
Wow, it has completely changed it. I studied chemistry and have a PhD in it too, so most of my 20s were spent in research labs and immersed in academia. Once I broke free from this to travel the world I knew there was no way back really.
Being able to work remotely has opened so many doors. I think if I hadn't discovered the digital nomad lifestyle I would either be working in a chemistry job I'd resent or be stuck in the work-save-money-travel cycle.
But more than that, working remotely has allowed me to meet hundreds of amazing women (and men) from all over the world, make new friends and even become an entrepreneur. It's opened a lot of doors for me.
Q: What's the biggest thing you struggle with while on the road?
Well, there are a few things actually, and I think it's super important to talk about the ups and downs of this lifestyle. Work-life balance and productivity are definitely big challenges but if I had to pick just one thing I'd say it's a lack of community. Thankfully, I am meeting incredible people all the time and I make new friends quite easily. But it's hard to have to say goodbye to new friends all the time, and it doesn't really get easier. That's why online communities are so important for us digital nomads.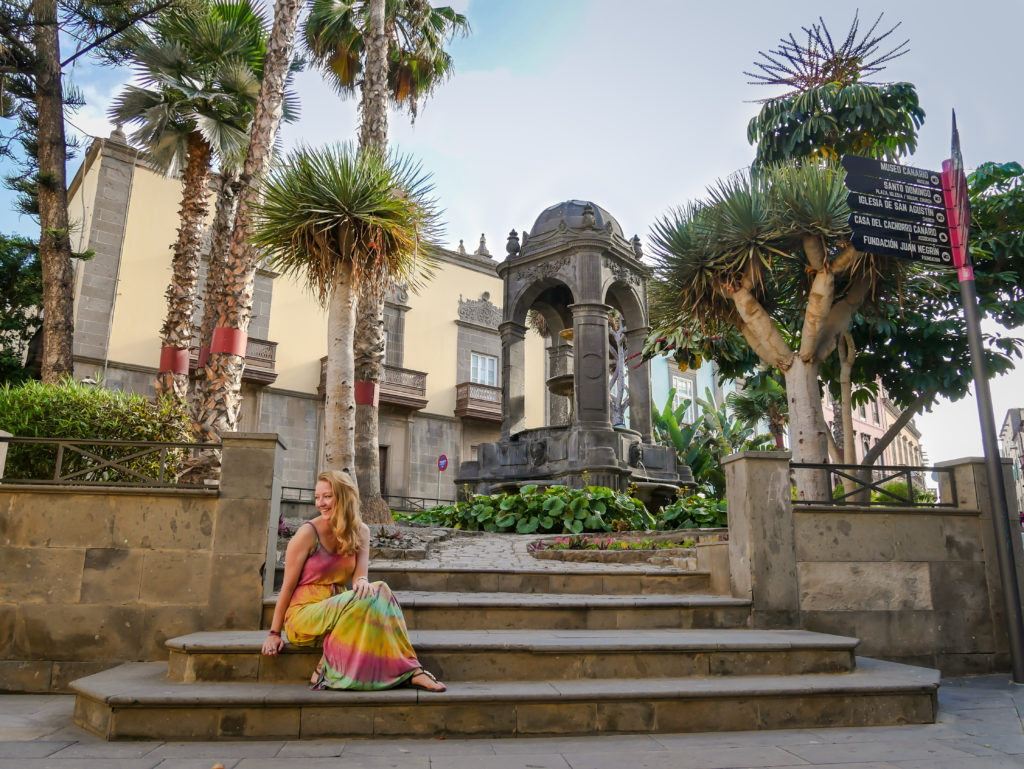 Q: You've been here with us at Sun and Co. a few times. How would you describe your experience here to someone who is on the fence about coliving?
Yes, three times already! And well, I'm a little biased because I think you guys are amazing and that Sun and Co. is incredible. Apart from the beautiful house and the lovely town (seriously, Javea is dead cute), I think you'd struggle to find many coliving spaces that care so much about their colivers. As soon as you arrive at Sun and Co., you feel like you've arrived home. The other colivers were always super friendly and open, the vibe is very relaxed, no-pressure but fun and a bit adventurous. I would love to spend time at Sun and Co. every year, to get lots of work done and hang out with awesome people.
If you're on the fence, don't even think about it anymore and just book! I can't think of a single thing that I don't like about Sun and Co. Oh well, maybe that there isn't one in every city!
Q: Being a digital nomad full-time can sometimes be hard. How would you explain your personal transition over the years from constantly traveling to choosing one place as your "home base"?
Yes, it can definitely be exhausting. I think after 3 years of almost full-time travel – including 1 year of jumping from city to city every month while working basically full-time – I needed a break. It's hard for a digital nomad to say, ok, I'm staying here for a while and I won't move. But you have to listen to yourself and your body. There's absolutely nothing wrong with slow travelling, or having a home base. I think that's so important to know.
At the same time, what I am experiencing now is that it's equally important to listen to yourself when it's time to move on. It's easy to get comfortable and get used to your routine. But too much of that is also not good, and I noticed over the past months that I was getting itchy feet. I was nervous to hit the road again full-time, but since booking the flights I am just excited to travel more again and explore new countries.
Q: When do you feel you're happiest?
Woah, that's an awesome question. I think when I am meeting new people and making new friends. When I'm connecting with people who have similar dreams and goals as me. I think some of my happiest weeks have been during the Digital Nomad Girls retreats, three of which were in Javea.
Oh, and when I eat really good food with my boyfriend Simon!
Q: What is one thing you wish you knew before starting your location independent journey?
There's no right or wrong way to be a digital nomad and travel. Don't listen to the gurus, to people who want to teach you how to live this life. You have to figure it out yourself and your travel style also adapts over time.
Q: One thing you can't leave home without?
Oh so many. My earplugs and sleeping mask for practical items, and my hula hoop for fun.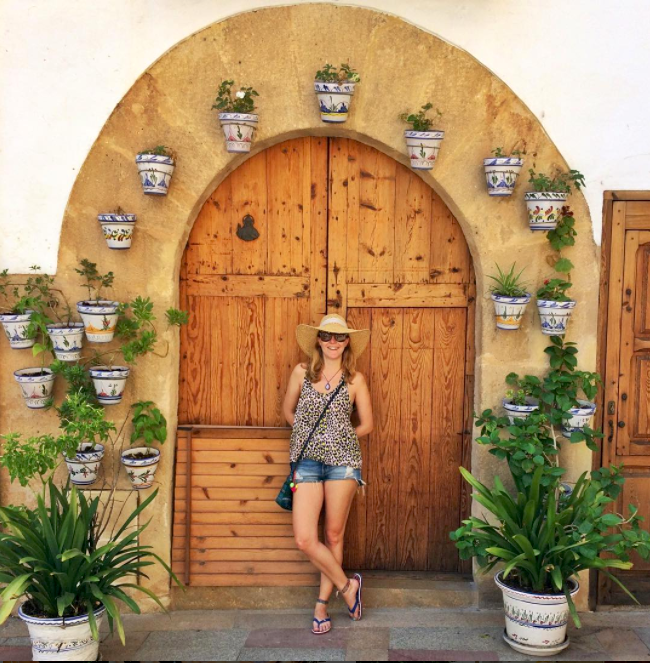 Q: Imagine that you had one month to travel anywhere in the world (money not being an issue), where would you go and why?
Such a hard question. (20 minutes later…) My first thought was India, but it's such a cheap destination that I think I'll go to Italy. I absolutely adore Italy and would love to drive around for a month, take cooking classes, stay in little villas, eat cheese and drink wine all day. It sounds like a dream!
And for something more 'exotic', definitely Japan. I'd love to see the cherry blossoms and eat my way around the country.
Q: Lastly, where do you see yourself/what do you see yourself doing one year from now?
One year from now I might still be in Mexico or maybe in the States on a road trip. I'll still be working on the Digital Nomad Girls and my membership site, the DNG Inner Circle. And I'll be organising a retreat in Mexico. Or maybe I'll be back in Europe and living in Sicily for a few months!
☀️ Rapid Fire ☀️
Window or aisle?  Window
Carryon or overweight?  Overweight!
Favorite city you've visited? Sydney
Favorite tool for remote work? Asana and Bear
What song do you currently have on repeat? The Moana soundtrack
Q: Anything else you want to share?
I'm so glad that there are spaces and communities like Sun and Co., which make the digital nomad experience so much easier and more fun. Thanks for what you do guys and I can't wait to return soon!
Q: Where can we find you on the web and social media?
You can find me on my website digitalnomadgirls.com, on Instagram and in my Facebook Group.