Since the beginning of September, both our house and hearts are full and happy. We have been busy connecting, sharing stories, and creating magic within our little community. As always, we got inspired by the life stories of our colivers and decided to keep sharing them with you. This time, meet the coliver Clara Reshöft, our returning guest and one very happy human being.
Clara works as a software consultant, and even though this job sometimes involves 40h+ of work, she still wants to do what she enjoys the most – traveling, experiencing new cultures, and being connected to other awesome people.
During her sabbatical in 2019, Clara completed a yoga teacher training and right now is training to become a certified integrative nutrition health coach, to help people on their health and wellness journey to become happier versions of themselves.
How did you become a digital nomad/ location independent?
I am not a full-time digital nomad, but an occasional one. For most of the year, I live in Hamburg, Germany, but I just take any opportunity to visit other coliving and coworking places around the world. In 2021 this resulted in me living outside Germany for more than 5 months. Prior to covid, my job required me to be close to Germany most of the time because we needed to travel to visit our clients, but covid really changed the world of IT consulting and made it easier for us to work remotely and use the best of location-independent work.
What are the challenges in this process and how do you handle them?
The biggest remote work challenge for me personally is staying connected to friends, colleagues and family, and this is why I will always have a home base in Hamburg. I found out a few years ago that all experiences mean very little if I feel disconnected from home, so for me, it's the perfect match: having a home base in Hamburg but also having the freedom to spend months away from home.
What's been your favourite part about Coliving / Javea / Sun and Co.?
Sun and Co. has been my first coliving experience and obviously, you never forget your first. But it is also more than that. I have the feeling that certain profiles of people feel drawn to Sun & Co. and even though personalities differ a lot, the people all have a few things in common – they are open to new experiences, they cherish the community, and like to give (without expecting something in return). I think this is how the atmosphere becomes so magical. Ohh and of course… the hosts who really give with all their heart.
Have you ever received a hug from Jon? If so, I think you know what I am talking about. 🙂 
Clara and Jon sharing heartwarming "see you soon" hugs
If you had one piece of advice to give to someone who is thinking about quitting their job to be location independent, what would it be?
My biggest piece of advice would be to free yourself from limiting beliefs! Sometimes it doesn't need to be all or nothing. Whereas this is true for many things in life, it is definitely not true for experiencing the digital nomad life. Ask your boss to work remotely for a month to see how it goes. Sometimes it doesn't even require quitting a job, selling all your stuff, and leaving everything behind. I think we often tend to make changes in our lives scarier than they actually are.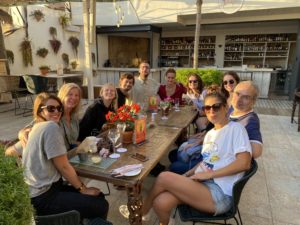 Sun and Co. family
---
Join the Sun and Co. Community to hear more about our colivers and life at Sun and Co.!